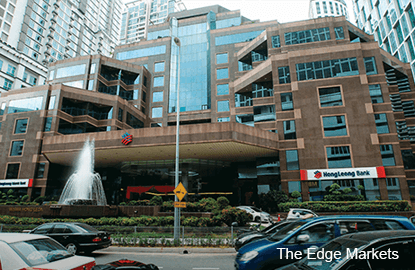 KUALA LUMPUR (Aug 19): Hong Leong Bank Bhd (HLBB) has appointed Intellect Design Arena Limited (Intellect) as its partner in the bank's effort to transform and digitise its wholesale banking offerings.
In a statement today, the bank said its adoption of Intellect's multi-award winning Intellect Global Transaction Banking (iGTB) suite was in line with the global Banking 3.0 trend whereby technologies such as mobility and cloud are redefining financial services and payments worldwide.
Hong Leong Islamic Bank managing director and chief executive officer (CEO) Raja Teh Maimunah said following the bank's digitisation of its personal financial services, HLBB was now turning its attention to the corporate banking space with a focus on the development of real-time payment offerings in order to better support its Malaysian corporate clients both domestically and globally.
"More of our wholesale banking clients have gone global and expect more competitive banking services to facilitate their cross-border businesses.
"As customers nowadays seek other alternatives apart from the physical branch, this offering provides the ability to access information, select products and make transactions from anywhere and at any time," she said.
Meanwhile, iGTB CEO Manish Maakan said digitalisation and mobility had changed the way businesses ran.
"Local banks are seeing more non-banking players crowding into their space as their customers want more flexibility, multiple-channel payment options and the ability to do this all in a secure and fast manner.
"HLBB's purchase of the Intellect's iGTB suite will consist of the digital omni-channel delivery platform and related applications in digital Cash Management, Liquidity Management, Domestic and Foreign Payments, Trade Finance and Supply Chain Financing. Via Intellect's iGTB, HLBB will be equipped to facilitate mass adoption of real-time digital payments amongst its corporate clients," said Maakan.