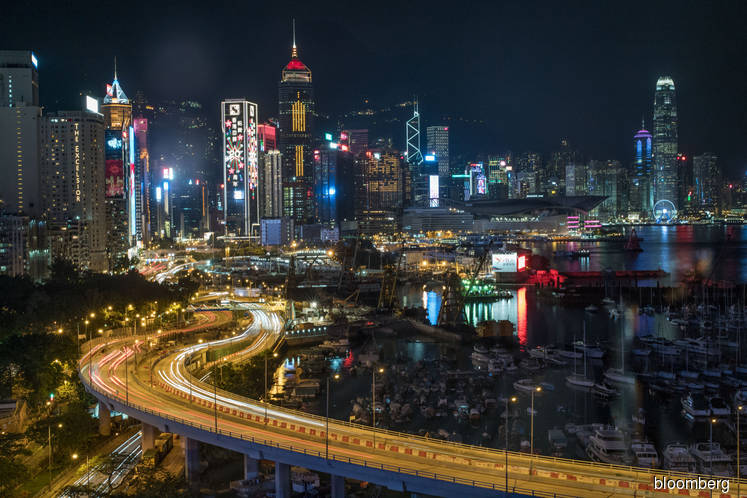 HONG KONG (Feb 26): Hong Kong Financial Secretary Paul Chan announced a HK$120 billion (US$15.4 billion) relief package with tax cuts and a cash handout, in an effort to shore up economic confidence in a city battered by political unrest and the coronavirus.
The main feature of Chan's annual budget announced Wednesday is a payment of HK$10,000 to each permanent resident of the city aged 18 or older. He unveiled an official forecast for economic growth this year of between -1.5% and 0.5%, and confirmed a contraction of 1.2% in 2019.
Fiscal Needs
The administration of Chief Executive Carrie Lam is seeking to put a floor under the collapsing economy, rolling out a bolder budget than has been seen in recent years. Months of political unrest pushed Hong Kong last year into its first annual recession in a decade, with economists forecasting a second annual contraction in 2020 as disruptions from the coronavirus outbreak further depress the city's output.
"In view of the tough economic environment, we will adopt an expansionary fiscal stance and make optimal use of our fiscal reserves to implement counter-cyclical measures," Chan said. The objective is "supporting enterprises, safeguarding jobs, stimulating the economy and relieving people's burden, so as to help Hong Kong tide over the difficulties," he said.
Hong Kong is among the economies most exposed to the coronavirus fallout given its linkages with China and the region.
Here are further details from the budget:
Relief measures for businesses including a low-interest loan with 100% guarantee provided by the government, to a ceiling of HK$2 million, profits tax reduction of 100% on the first HK$20,000, waiving of business registration fees, extending subsidies on electricity and water and sewage bills.
HK$700 million to promote tourism in the city once the coronavirus epidemic passes.
For citizens, measures including salaries tax reduction of 100% on the first HK$20,000, waiving rates on residential properties to a ceiling of HK$1,500 per quarter, one month's rent for lower income tenants.
Total recurrent funding of HK$75 billion provided to the Hospital Authority in 2020-2021.
Hong Kong Mortgage Corp to launch pilot program offering fixed-rate mortgage loans through the banks to provide homebuyers with more options and reduce risk of interest rate volatility.
On the innovation front: HK$3 billion earmarked for a possible Phase 2 of the Science Park expansion program, as well as a possible third InnoHK research cluster at the park, HK$2 billion for a re-industrialization plan to support manufacturers setting up new smart production lines.
"If the benefits from the cash handouts and tax cuts are distributed this year and everyone spends them this year the economic boost could be 0.5-1% of GDP," said Tommy Wu from Oxford Economics in Hong Kong.