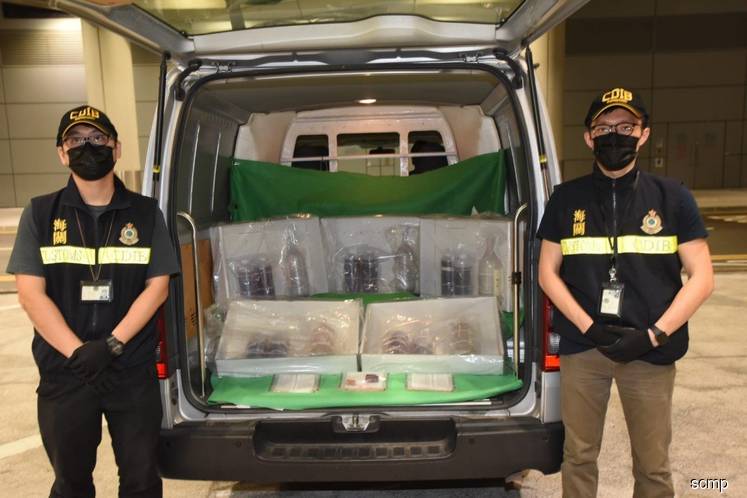 HONG KONG (Oct 23): Five bottles of wine carrying more than HK$11 million worth of suspected liquid cocaine were found in the luggage of a man arriving from Malaysia, according to the Customs and Excise Department
The 30-year-old was selected for a routine Customs search at Hong Kong International Airport at about 1am on Tuesday soon after he landed on a plane from Kuala Lumpur.
"Five red wine bottles were found inside his check-in luggage and each bottle contained two litres of suspected liquid cocaine," a senior Customs officer said on Wednesday. Nine grams of a substance suspected to be the methamphetamine Ice
were also seized in the luggage.
The Customs officer said the haul had an estimated street value of HK$11.6 million (US$1.48 million) and officers were investigating whether it was for local consumption.
The suspect was arrested on suspicion of trafficking in a dangerous drug, an offence that carries a maximum penalty of life imprisonment and a HK$5 million fine.
As of 7pm on Wednesday, the man was being held for questioning and had not been charged.
On September 19, police arrested four Malaysians — three men and one woman — with nine wine bottles, holding HK$20 million worth of suspected liquid cocaine, in a raid on a Cheung Sha Wan flat.
Official statistics show Customs and police seized 1,014kg of cocaine in the first six months of 2019, nearly three times the 355kg uncovered in the same period last year.
Separately, police arrested a 23-year-old man and seized illegal drugs with an estimated street value of HK$1.3 million in a raid on a Mong Kok flat at about 7pm on Tuesday. The drugs included 800 grams of suspected ketamine and 500 grams of suspected Ice.