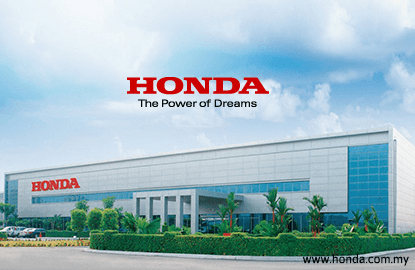 KUALA LUMPUR (May 24): Honda Malaysia has increased its recall of their cars by another 58,140 units to replace the driver airbag inflator with newly-poduced inflators.
In a statement today, Honda Malaysia said the additional recall includes 33,668 units of the City model (year 2011 to 2013), 1,499 units of the Civic model (year 2011), 3,420 units of the CR-V model (year 2011), 7,084 units of the Jazz model (year 2012 to 2013), 9,567 of the Jazz hybrid model (year 2012 to 2013), 2,140 units of the Insight model (year 2012 to 2013) and 762 units of the Stream model (year 2012 to 2013).
Honda Malaysia had earlier recalled 143,970 of their cars in July last year to replace the driver front airbag inflator with new inflators.
This was in addition to a precautionary update issued in June last year for 46,710 Honda units across various models.
Honda Malaysia said all affected customers will be informed via notification letters, which will include details of the product update.
"Honda Malaysia Sdn. Bhd. continues to urge owners of Honda vehicles affected by the driver airbag product update to get their vehicles checked and parts replaced at any authorized Honda dealers as soon as possible,upon receipt of the notification letters," the statement read.
"Replacement works will be carried out once parts are ready.
"Cost of parts and labour related to the product update will be borne by Honda Malaysia," it added.
Honda Malaysia also affirmed all current selling models are not affected by the update.
Honda owners can also check their vehicle's product update status by calling Honda's Toll Free number 1-800-88-2020 or log on to www.honda.com.my, or visit any Honda authorised dealer nationwide.
Honda is at the centre of the biggest vehicle recall in history of the United States (U.S.) as defects of its vehicles' airbag inflators, made by Japan's Takata, have led the automaker to recall 51 million of its vehicles worldwide, including 29 million vehicles in the U.S.
On May 4, US regulators ordered the company to replace as many as 40 million additional air bags in the U.S., more than double what had been announced.
International news agency AFP reported on May 5 that Honda had announced two people having died in Malaysia in car crashes where the airbag inflators of the Honda vehicles exploded, although authorities have yet to exactly pinpoint the cause of the deaths.
The deaths reportedly occurred in April in Sabah and in Kedah in May. Both car crashes involved Honda City vehicles which were under recall to fix the faulty Takata inflators, but repairs had not been made.
The defect can hurtle metal and plastic shrapnel from the inflator canister toward drivers and passengers, when an airbag is deployed.
So far, 13 people have died worldwide and over 100 have been hurt.