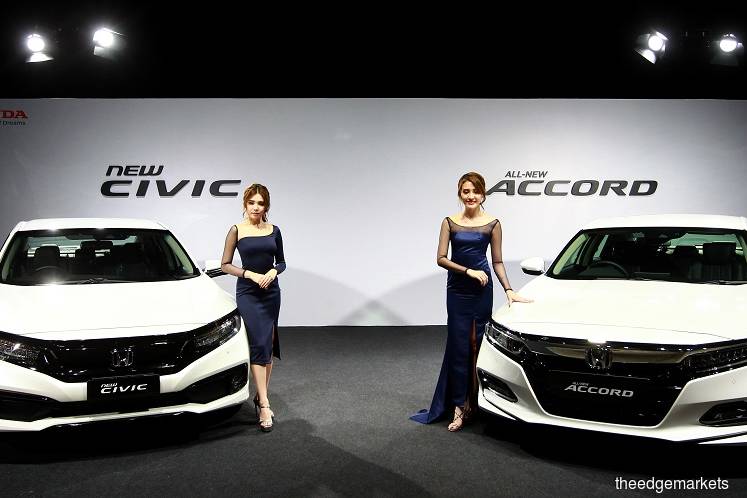 KUALA LUMPUR (Feb 26): Honda Malaysia has launched two new cars, namely the face-lifted versions of its flagship executive sedan Accord, and the C-segment Civic.
At the launch today, the Japanese automaker said the new models are both certified energy efficient vehicles or EEVs.
Honda Malaysia managing director and chief executive officer Toichi Ishiyama said Honda has been producing the Accord since 1976, and that there are now more than 84,100 units of the Accord on Malaysian roads. "Each generation of the Accord continues to shine by setting a higher benchmark in styling, technology and advanced features in an executive sedan," he said.
As for the Civic, since the 10th generation model was introduced four years ago in 2016, Honda Malaysia has sold 48,000 units of the car. As at January this year, the group has sold over 135,000 Civic cars in all.
The group plans to sell 200 units of the new Accord a month, and 1,000 units of the new Civic per month.
"We are certainly very excited about the launches. This is the first time we have launched two different models in a day. We are very excited and looking at these two models to spear us ahead this year," said Honda Malaysia head of sales and marketing Sunita Prabakharan.
The two new models are also complete knockdown models (CKD) that are fully assembled locally at Honda Malaysia's manufacturing plant in Alor Gajah, Melaka.
The new Accord with the enhanced 1.5L VTEC Turbocharged engine makes Honda the first Japanese mass market manufacturer to introduce the Turbocharged engine, which is more powerful than a 2.4L engine, in the D-segment.
The new executive sedan is available in two variants, which are 1.5L VTEC Turbocharged (TC) and 1.5L VTEC Turbocharged Premium (TC-P). The first will retail at RM185,000, on-the-road without insurance, while the second variant will retail at RM195,900.
The new Civic, meanwhile, is powered by a 1.5L VTEC Turbocharged engine, which is aimed to provide an unmatched 'Joy of Driving' feel that offers maximum power output of 173PS and maximum torque of 220Nm, equivalent to a 2.4L engine performance. The New Civic is also offered in the 1.8L i-VTEC engine which produces 141PS and 174Nm of torque, ideal for owners who prefer a naturally-aspirated engine. Both engines are EEV certified.
The new Civic comes in three variants — the 1.8S, the 1.5TC and the 1.5TC-P — which will retail at RM113,600, RM129,600 and RM139,600, respectively.