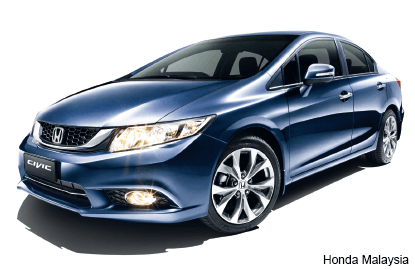 This article first appeared in The Edge Financial Daily, on December 21, 2015.
HONDA Malaysia Sdn Bhd on Nov 19 announced its achievement of surpassing the half a million vehicle sales milestone in Malaysia.
"Since our establishment in Malaysia in 2000, Honda Malaysia has grown steadily and has reached the accumulated sales of 500,000 units. It is inspiring to know that we have spread the joy of driving a Honda vehicle to 500,000 Malaysians. We would like to extend our sincere gratitude to all Honda customers for their belief in the Honda brand," said Honda Malaysia managing director and chief executive officer Yoichiro Ueno.
Over the years, the company has evolved and grown together with its customers, introducing variation of vehicles for the people who have different lifestyles and expectations. Feedback from the customers was taken into consideration and as a result, Honda models are now equipped with advanced features, better safety aspects, good built quality and value for money packages.
2015, indeed, became a milestone year for Honda Malaysia. Earlier this year, Honda Malaysia penetrated into the compact sport utility vehicle segment with the introduction of the HR-V, which has sold a total of 16,115 units since its launch in February. Together with Accord, City, Jazz, Civic, CR-V and Odyssey, Honda Malaysia now offers a comprehensive line-up which meets different needs and lifestyles of Malaysian customers.
The City and Civic emerged as top contributors for the achievement of 500,000-unit sales with a contribution of 209,056 units and 79,864 units respectively, translating into about 40% and 15% of the overall sales.
In order to cater for increased demand, Honda Malaysia is accelerating the expansion of its dealer network. The company currently has 86 dealers nationwide to provide more convenience and accessibility to all customers in both major cities and suburban areas.
Since Honda Malaysia established its No 2 line and doubled its production capacity to 100,000 units in January 2014, the company opened the new pre-delivery inspection Yard 3 in August this year, which accommodates the increase in completely knocked down models and to speed up car delivery.
Honda Malaysia is also strengthening its operations and presence in East Malaysia. In June, the company established a new logistics hub in both Sabah and Sarawak. Last month, Honda Malaysia also opened its new regional office in Kota Kinabalu. These expansions will support its dealers' operational activities and vehicle delivery process in East Malaysia.
The sales of Honda Malaysia from January through October was 74,920 units. The company received its record-high bookings of 12,713 units in October.
Honda Malaysia is on track to achieving its annual target of 85,000 units and is continuing to lead in the non-national segment.
Ueno said: "With this milestone of half a million sales, Honda Malaysia will continue our effort to achieve our goal to be a company that the society wants it to exist, with support from our valued customers, as well as [the] malaysian government and business partners. "Customer satisfaction will always remain our top priority. We will continue working towards providing our customers with products that offer excellent value and excitement, and strive to be the most beloved brand in Malaysia."