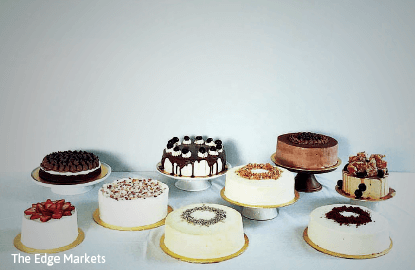 This article first appeared in The Edge Financial Daily, on October 28, 2015.
The glorious scent of freshly baked cakes wafting through the air must be one of the most enticing smells that you can dream of; what more if you know the cakes were made without preservatives and with the healthiest ingredients that one can source for in Malaysia. It used to be that if you wanted to get a cake, you would either have to bake one yourself or head to the nearest bakery to order it or get it off the shelves. But thanks to the advent of social media and online retailing, it's now not only possible, but exceedingly easy, to order and customise a cake online. 
A growing trend sees ultra-conscientious cake lovers turning to home bakers to ensure that only the freshest and healthiest natural ingredients go into making their cakes. People with food sensitivities and allergies toward ingredients like gluten and wheat, or those who are vegans or vegetarian can customise their cakes and put in requests so that their orders can be made specifically for them. And all this can be done with a simple phone call, or via a couple of emails. 
Sophia Foo, the brains behind home bakers Frost & Flourish started off small — rather unplanned, actually. In the beginning, baking Christmas cookies for her sister-in-law's colleagues was a hobby of sorts, until they became a massive hit.
"I then started venturing into bazaars with my cakes, and that's when things began to pick up. I personally didn't find it difficult as I had a lot of baking equipment at home to begin with, and I find baking more therapeutic than chaotic so I was really happy to start the business," she explains.
Foo then quickly progressed from having to hunt around for customers to getting way too many orders that she could cope with. Baking for 16 hours a day, seven days a week, she soon realised that she needed to upgrade her oven so that she could bake more cakes at a time, and she managed to streamline the baking process to give herself better work hours and a better control of the work flow. 
With the rise of everything 'hipster' these days, it probably comes as no surprise that there are more and more people who prefer artisanal food products that are not mass-produced, and hold a certain standard, ethically speaking — no underpaid workers, less-than-ideal baking conditions or the use of sub-standard ingredients.
"I think the demand for home-baked cakes comes from the more conscientious customer — it's comforting to know that they're made in a home, where it's easier to uphold cleanliness standards than most factories run by works on an assembly line," Foo says. 
Aside from the odd cake lover who orders cakes for special occasions such as birthdays and weddings, there are a host of cafes who order cakes from Frost & Flourish regularly as well. The cakes are then displayed on the café shelves, and are sold by the slice. 
"Most of my cakes are regular sponge or butter cakes, but what sets them apart are their flavours. They're good for birthdays, weddings or any celebration; my only caveat is that I don't dabble with fondant. All my decorations are edible and the customisations I allow my customers are in terms of flavour — not necessarily with elaborate decorations," explains Foo.
In fact, what truly makes Frost & Flourish cakes completely unique are the flavours that can't be found anywhere else — with flavours such as The King (chocolate-covered banana filling and peanut butter frosting), The Lady (earl grey sponge cake with rose buttercream and filled with cut lychees), Milo Dinosaur (chocolate cake with milo buttercream and milo powder filling), Durian Snow (vanilla sponge filled with durian ice cream and covered with fresh coconut flakes), and Chocolate Salted Caramel & Oreo (chocolate sponge cake with salted caramel buttercream and a Oreo crumb filling), these cakes have found a loyal fan base.
Aside from these flavour creations that Foo has come up with over the years, 'standard' varieties such as red velvet, black forest and blueberry cheesecake are also available. Perhaps ingeniously; instead of focusing on fancy, inedible decorations made out of tonnes of fondant, Foo has decided to keep things simple. After all, the joy in savouring a delicious cake is what's on the inside, and we have all seen a beautifully decorated cake tasting rather mediocre on the inside. 
As for the future of baking, Foo believes that there is a large demand for artisanal cakes. "I think there's a rise in home bakers taking their businesses out of their home kitchens into a commercial kitchen with a shop front. There'll probably be a large amount of new cake joints sprouting up soon that aren't quite like bakeries we've been accustomed to, which are bread-centric," she says. 
Although the work is hard, requiring many hours of baking in the kitchen, Foo has stayed firmly devoted to her career of choice. After all, her favourite past time is just sitting down, throwing some flavour profiles together and working on them in the kitchen to see if they would turn up as she'd visualised them. 
"It's a rather long and tedious process because I'm such a stickler for details, but I think it makes all the difference in the end product. It's always about taste for me, so new cakes may take months, sometimes years to come together. However, there's nothing more satisfying than looking at a finished product that began in my mind; and to hear positive feedback from my customer after they've tried it," Foo concludes.
---
Frost & Flourish cakes are available in 6" and 9" sizes, and a notice of at least three days is required to fulfil orders. Pick-ups and deliveries can be arranged. For more info, visit www.frostandflourish.com or email [email protected].