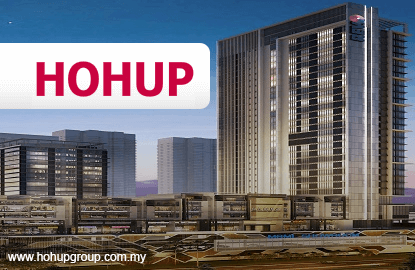 KUALA LUMPUR (May 23): Ho Hup Construction Company Bhd is revising its growth in profit after tax (PAT) downwards to between 15% and 20% in financial year ending Dec 31, 2016 (FY16), in view of the slowdown in the property market.
Ho Hup initially targeted an increase of 20% to 25% in PAT in FY16.
"Given the slowdown in the property market, we are not slowing down our property launches but we are cautious," Ho Hup chief executive officer Datuk Derek KL Wong said today, after the company's annual general meeting (AGM) today.
"We are readjusting the timing of our launches," he added.
He said 80% of the company's profits is derived from its property division, and the company will continue to launch its new projects at the right time.
This year, the company is planning to launch service apartments and two floors of retail space in Kota Kinabalu by the end of this year, with a gross development value (GDV) of RM500 million.
The service apartments and retail space, coupled with a hotel in Kota Kinabalu, carries a total GDV of RM780 million.
Wong also said the company is targeting the launch of another residential project in Bukit Jalil next year, with a GDV of RM400 million.
Ho Hup saw its net profit increase 3.28% to RM19.53 million in the fourth quarter of financial year 2015 (4QFY15), from RM18.91 million in the fourth quarter of financial year 2014 (4QFY14), on contributions from the Aurora Place mixed development project in Bukit Jalil and the integrated army complex in Johor.
Revenue increased 14.75% to RM86.1 million in 4QFY15, from RM75.03 million in 4QFY14.
For the full year (FY15), net profit increased 8.15% to RM71.11 million, from RM65.75 million in FY14.
Revenue however declined 12.45% to RM298.55 million from RM341.02 million, as the group suspended projects in Iraq, due to uncertainties in the country.
As at May 5 this year, the company has clinched RM86.9 million in construction jobs so far, including works at the West Coast Expressway.
The company has also commenced the construction of a polytechnic in Hulu Terengganu and soil improvement works at Petronas' Refinery and Petrochemical Integrated Development (RAPID) project in Pengerang, Johor in 4QFY15.
As for its construction division, the company's tenderbook currently stands at RM3 billion, while its orderbook stands at RM600 million.
Wong said the group has pre-qualified for the Sungai Besi-Ulu Kelang highway (SUKE) and the Damansara-Shah Alam elevated expressway (DASH).
He also said the company is eyeing works at other infrastructure projects, such as sewerage.
Ho Hup exited Practice Note 17 status in May 2014 and has quickly become a property developer and construction company to watch.
Ho Hup, its subsidiary Bukit Jalil Development Sdn Bhd (BJD), holds a 10 acre plot of land in Bukit Jalil, to be developed into a mixed development with a GDV of RM1.1 billion, which includes the Aurora Place project.
Another 50 acres of adjoining land would be developed under a joint development agreement between BJD and Pioneer Haven Sdn Bhd, a subsidiary of Malton Bhd, which will be developing Pavilion Bukit Jalil, which is part of the Bukit Jalil City development project.
After a long drawn-out legal tussle with Malton Bhd and an eventual resolution in 2012, Ho Hup is entitled to 18% of the GDV for Malton's Bukit Jalil City development, with the balance 82% going to Malton, as well as the 10 acre land in Bukit Jalil.
The entitlement saw BJD earning RM35 million in gross sales and a gross profit of RM28.1 million in FY15.