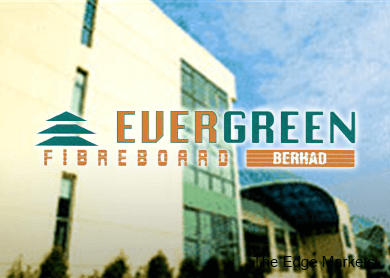 KUALA LUMPUR (June 17): Hong Leong IB Research has maintained its "Buy" rating on Evergreen Fibreboard Bhd with a higher target price of RM1.59 and said its recent small group meeting with Evergreen's management reaffirms its positive view on the company's earnings visibility.
In a note today, HLIB Research said the continued rise in US dollars (US$) was positive for Evergreen's earnings, as 70% of its total revenue is denominated in US$ whilst only 25%–30% of its production cost is denominated in US$.
"Currency movement aside, we understand the prices of key inputs (including rubber log wood, urea and methanol) are moving in favour of Evergreen's earnings.
"Management remains committed to further enhance its earnings performance by improving its overall production efficiency and diversifying its product range to the downstream segment (which has better profit margin and less susceptible to price competition)," it said.
HLIB Research said despite Evergreen's higher capex commitment for the next 2 years, it expects its net gearing to remain below 0.3x given its ability to generate relatively strong operating cash flow.
"FY15-17 net profit forecasts raised by 3%–15%, largely to reflect higher utilization rate and average selling price assumptions.
"Target price lifted by 8.2% to RM1.59 based on unchanged 10x average 2015-2016 revised EPS of 15.9 sen.
"Maintain Buy recommendation," it said.