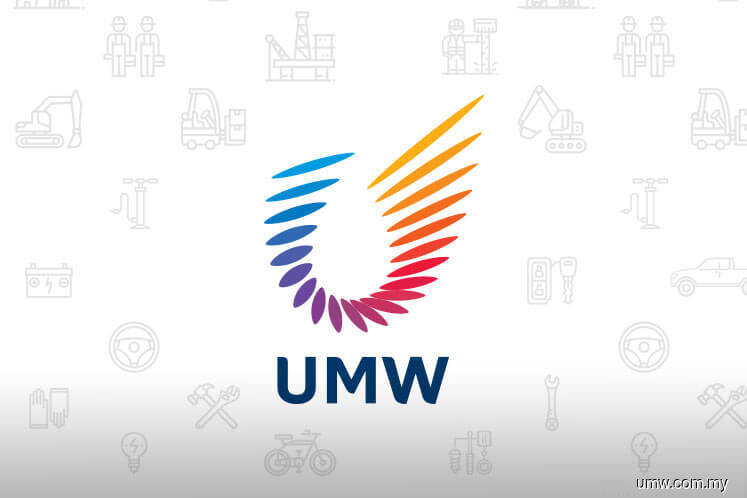 KUALA LUMPUR (June 16): Hong Leong Investment Bank (HLIB) Research has maintained its 'hold' rating on UMW Holdings Bhd at RM2.65 with a higher target price of RM2.58 (from RM1.60 previously), following earnings adjustments and based on lower discount of 15% discount (from 20%) to SOP of RM3.03.
In a note today, HLIB Research analyst Daniel Wong said he believes Toyota will continue to face stiff market competition in 2020 until 2021.
UMW reported core profit after tax and minority interests of RM13 million for the first quarter of financial year 2020 (1QFY20) (-30.9% quarter-on-quarter; -80.6% year-on-year) as compared to HLIB Research's FY19 forecast of RM84.1 million (15.5%) and consensus of RM216.1 million (6.0%).
"We deem the result above our expectation (but below consensus) as we expect earnings recovery in second half of 2020 (2H20), driven mainly by government's introduction of SST (sales and services tax) exemption [for] car purchases from June 15 to Dec 31, 2020 as well as higher Rolls-Royce fan case [sale].
"We have excluded net EIs (exceptional items) of +RM13.3 million in 1QFY20, mainly due to reversal of impairments, personal protective equipment, disposal gain and forex gain (offset by investment disposal loss)," he said.
Even though the automotive segment will benefit from the introduction of SST exemption, Wong nevertheless remains cautious on the negative impact from the depreciation of the ringgit or US dollar, deteriorating consumer sentiment due to the Covid-19 pandemic and domestic political uncertainty as well as heightened competitive market in 2020.
He said demand for equipment including mining, construction and logging remains sluggish in the near term, given the slowdown of domestic as well as regional economic activity. The anticipated re-commencement of mega projects may provide some growth to the segment.
He noted, automotive parts will leverage the recovery of local car production volume, namely Perodua and Proton for earnings sustainability.
"UMW Aerospace production remained on track to ramp up in 2020," he said.
He upgraded earnings for FY20 by 44.2% and FY21 by 26.5%, following his expectation of recovery of automotive sales due to SST exemption, and equipment sales due to ramping up of Roll-Royce fan case production) by 2H20.
"Introduce FY22 earnings at RM321 million," he noted.
At 10.22am, shares in UMW rose three sen or 1.13% at RM2.68, valuing the group at RM3.01 billion. It saw some 386,900 shares traded.