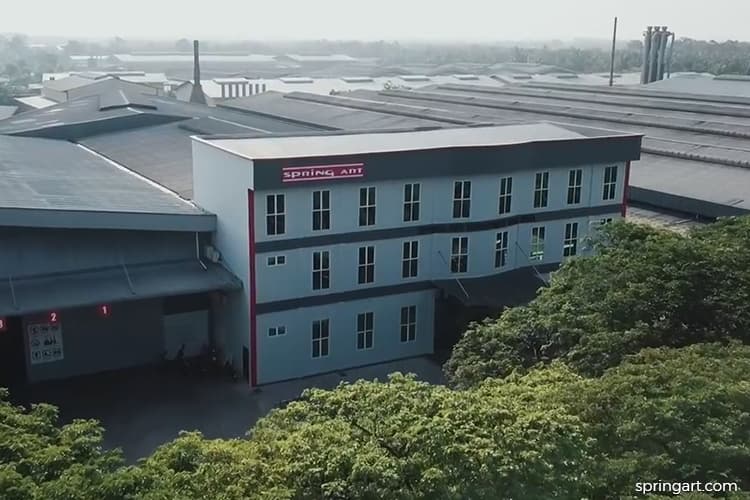 KUALA LUMPUR (Nov 7): Hong Leong Investment Bank Research (HLIB) has derived a fair value (FV) of 28 sen for ACE Market bound-Spring Art Holdings Bhd at a retail IPO price of 25 sen.
In a note today, HLIB projected a 3-year core net profit (CNP) compound annual growth rate (CAGR) of 11.2% for Spring Art, underpinned by additional subcontractor capacity and its expansion plans into North America and Europe.
It said the FV of 28 sen is derived based on 12.5 times price-to-earnings ratio (P/E) (c.19% premium to its peers' average of 10.5 times, reflecting its superior margins) tagged to financial year 2020 (FY20) earnings-per-share (EPS) of 2.2 sen.
"While the doubling in annual capacity will be seen in FY22, the near-term growth will be underpinned by the additional subcontractor capacity," HLIB said.
It added that the Muar-based Spring Art, which is a ready to assemble (RTA) furniture products maker catering to 35 countries, is expected to generate decent growth moving forward on its in-house design, manufacturing and marketing team.
"According to Providence independent market research, Malaysia's furniture industry and global demand grew at 2010-2018 CAGR of 8% and 2.9% to RM4.8 billion and US$453 billion, respectively.
"With the government's policy on the implementation of sustainable forest management, this should bode well for demand for processed wood products (particleboard, medium density fibreboard [MDF] and RTA)," it added.
It also noted that export-oriented furniture players stand to benefit from the trade diversion with the imposition of tariffs by the US on selected Chinese goods, including furniture.
According to HLIB, Spring Art intends to purchase machineries (2 CNC panel saw machines, 6 edge banding machines and 9 CNC woodworking machines) in the next 24 months to increase its capacity by c.100% to 674,000 by FY22.
Spring Art appointed Bright Showcase Sdn Bhd as subcontractor to undertake the manufacturing of furniture products in May 2019 for a term of 3 years as the new manufacturing facilities will only commence operation by July 2022.
"This will allow Spring Art to increase capacity by 49,158 units per annum, or 14.6% of current capacity of 337,016 units," said HLIB.
It said the total purchase orders between June to September 2019 stood at 10,921 units.