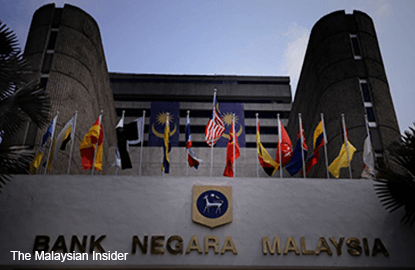 KUALA LUMPUR (Oct 23): After Bank Negara Malaysia's (BNM) foreign reserves rebounded on Oct 15, Hong Leong Investment Bank (HLIB) said that domestically a combination of positive factors will bode well for a slow and steady build-up in foreign reserves which will lead to a steadier ringgit.
Thus HLIB is maintaining its ringgit year-end forecast of RM4 per US dollar for 2015 where it also reiterated that BNM will extend its overnight policy rate pause at 3.25% beyond 2015 adding that the foreign reserves accumulation was expected.
"The respectable foreign reserves accumulation in the first two weeks of October is well within our expectations.
"The biggest gain in 12 months was a result of: improved foreign investor sentiment on ringgit assets; continuous trade surpluses with a record high August; limited impact of large Malaysian Government Security (MGS) matured in September and October; and retreat in strong US$ bets given dovish Federal Open Market Committee (FOMC) minutes on Oct 8," said the note.
Among the factors that will help strengthen the ringgit outlook was the fact that there is a gradual reversal in foreign portfolio inflows into equity market in the first two weeks of October after offloading a cumulative RM14.9 billion between May and September.
Another factor pointed out by HLIB is the RM20 billion injection into fund manager ValueCap Sdn Bhd with the first tranche of RM6 billion to be received by end-November or early December, which will continue providing support to the stock market that is off-low since August.
HLIB also expects a slew of stimulus measures, which will help safeguard the economic momentum, to be unveiled in the 2016 Budget later today.
It expects that the ringgit will also be given steadier reserves and outlook due to ongoing fund repatriation by government-linked companies and potential reduction in hoarding of foreign currencies by exporters.
Other factors that can help steady the ringgit outlook include: absence of sizeable amount of maturing government bonds in the near term (next up in July and September next year); and current account to remain in surplus position, aided by export boost via ringgit translation.
On the global front, HLIB expects growth stability to return after a "volatile third quarter 2015" (3Q15).
"After a series of policy moves that had repercussions on global financial market, we expect China to minimise policy interference while dealing with its growth slowdown via targeted policy adjustments to reduce disruptions through the financial channels.
"We expect the US to adopt a very gradual pace of rate hikes (HLIB rate lift-off expectation in December) as not to push the US global recovery off course; and global commodity prices have increased marginally from extreme low levels since end-August 2015," said the note.