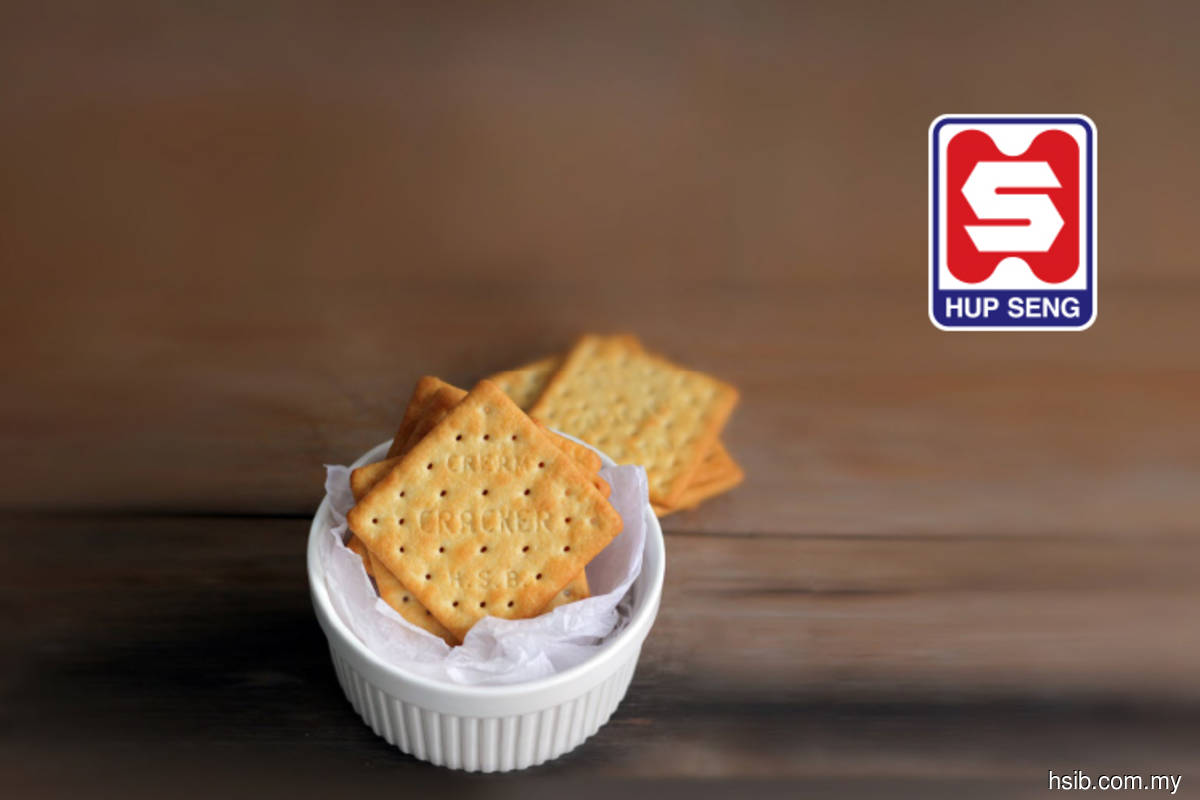 KUALA LUMPUR (Nov 11): Hong Leong Investment Bank (HLIB) Research has ceased coverage on biscuit maker Hup Seng Industries Bhd given the lack of management access.
As such, the research firm's forecast, a "sell" recommendation, and target price of 76 sen, should no longer be used as a reference going forward, it said.
Hup Seng's net profit for the third quarter ended Sept 30, 2021 (3QFY21) shrank by 65.94% to RM4.08 million, against RM11.99 million last year, on lower biscuit sales as well as increase in costs of main raw materials. Its quarterly revenue fell 25.76% to RM64.78 million from RM87.26 million in 3QFY20.
For the nine months ended Sept 30, 2021 (9MFY21), the group's cumulative net profit dropped 42.44% to RM17.53 million versus RM30.46 million a year earlier, while 9MFY21 cumulative revenue declined by 10.67% to RM214.03 million from RM239.58 million.
"3QFY21 core PAT (profit after tax) of RM3.3 million (quarter-on-quarter :6.9%, year-on-year [y-o-y]: -72.2%) brought 9MFY21 sum to RM16.8 million (-44.9% y-o-y). This missed our and consensus expectations, accounting for 49% and 41% of full-year forecasts, respectively. The deviation was on the back of weaker-than-expected top line coupled with EBITDA margin compression from the elevated raw material costs," the research firm said in a note dated Nov 11.
Furthermore, HLIB said it views the company's absence of dividends for the quarter under review as negative as Hup Seng is known as a stable dividend counter.
"Note that HSI (Hup Seng) had paid out six sen DPS (dividend per share) in FY18/FY19/FY20 which represented 111%/123%/119% payout ratio of full-year earnings, respectively," it said.
Following the recent news of cancer-causing substances allegedly detected in all 60 samples of pre-packaged biscuits and crackers tested by the Hong Kong's consumer watchdog, the research firm takes a negative view of this claim as consumers may become cautious following this news, which in turn would affect sales in the near future.
"Nonetheless we note that Malaysia's MoH (Ministry of Health) has reassured that the average level of acrylamide content of biscuits and crackers is below the benchmark set by European Commission regulations. Additionally, with the still elevated raw material costs (CPO price: +57% y-o-y) we view that earnings will remain tepid for the remaining of the year. Note that CPO makes up approximately 40% of the group's raw material cost," it added.
At 4.33pm, Hup Seng shares fell 1.5 sen or 1.67% to 88.5 sen, with a market capitalisation of RM708.09 million.