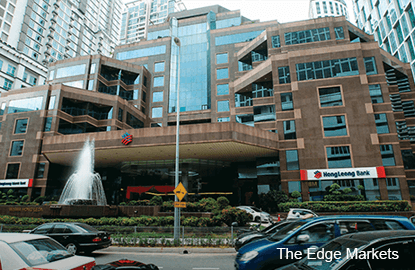 This article first appeared in The Edge Malaysia Weekly, on February 1 - 7, 2016.
Hong Leong Financial Group Bhd (HLFG) and Hong Leong Bank Bhd (HLBB) will see new captains at the helm after an internal restructuring.
In response to questions sent by The Edge, Hong Leong Group confirmed that HLBB's current group managing director and CEO Tan Kong Khoon will take on the top job at HLFG and Domenic Fuda, from Singapore's DBS Group, will replace Tan at HLBB.
HLFG is the controlling shareholder of HLBB with a 64.37% stake.
Tan is taking over the position of president and CEO at HLFG, which has been vacant since Raymond Choong left in September last year. Choong was transferred to GuocoLand Ltd Singapore as group president and CEO, taking over from property veteran Chia Boon Kuah. GuocoLand is the property arm of the Hong Leong group.
Fuda, who was deputy group head of consumer banking and wealth management at DBS Bank, beat a handful of other candidates, most of whom are understood to be foreign bankers as well.
Both Tan and Fuda, who have worked together at DBS, will start their new roles at the Hong Leong group on Feb 5.
All three of the senior bankers — Choong, Tan and Fuda — have working experience at Citigroup.
Choong, with more than 20 years of experience at Citibank Malaysia, was brought into HLFG in 2005, to take the group to the next level of growth and to fill the leadership vacuum after some key lieutenants of Tan Sri Quek Leng Chan left in 2004.
Tan was group head of consumer banking at DBS before becoming the group managing director and CEO of HLBB in 2013. He had taken over the top job at HLBB from Datuk Yvonne Chia, who was with the banking group for over 12 years.
Tan began his banking career with DBS Bank in 1981, and built consumer banking franchises across multiple markets in Asia for several foreign banks that included Citibank and Standard Chartered Bank. Tan was also president and CEO of Bank of Ayudhya, the fifth largest listed bank in Thailand, from March 2007 to December 2009. He rejoined DBS on Dec 1, 2010, as group executive and head of consumer banking.
Fuda, meanwhile, has been with DBS since March 2010. Prior to joining the Singapore banking group, he spent over 16 years at Citigroup. His last role at Citi was as chief operating officer for Southeast Asia Pacific, Australia and New Zealand.
According to DBS' website, Fuda has over 25 years' experience in consumer banking and wealth management, covering a wide range of functions from front line sales and branch management to senior roles in business, credit risk management and finance.
Fuda holds an undergraduate degree from Macquarie University, Sydney, and an MBA from University of Technology, Sydney, Australia.
In its reply to The Edge (and an announcement made to Bursa Malaysia at the same time), Hong Leong group notes that in his new role as president and CEO of HLFG, Tan will be responsible for positioning the financial group for sustainable growth and profitability, while leveraging the business diversity and strength of the financial group.
"Since joining HLBB in 2013, Tan has spearheaded major strategy and technology shifts across the bank, most notably the bank's move into the digital space," the bank says.
Both HLFG and HLBB undertook rights issues recently, raising RM1.1 billion and RM2.99 billion respectively. The corporate exercises were done to help beef up the capital positions of the two.
Today, HLFG's common equity tier 1 (CET1) ratio is about 10% while HLBB's CET1 ratio is 13%.
"The capital raising overhang is over; HLBB can now focus on business growth. Separately, its dividend payout has been on an increasing trend. In addition, HLBB has consistently seen its book value and earnings grow at 10% per annum, save for the year when it raised capital to acquire EON Capital. This however, has not been reflected in its share price performance. This underappreciated franchise at currently depressed valuations warrants a 'buy' rating," DSB Vickers wrote in a research note in December, pegging a RM14.80 target price to the HLBB stock.
"We believe a corporate streamlining within the group would be imminent. It is inefficient to have so many listed entities in the group, especially if the counters have low trading liquidity, in our view. We identify HLFG as the next privatisation target within the group. The potential corporate streamlining will allow investors to focus on only two listed operating entities — the banking arm, HLB, and ideally, its insurance arm, HLA, to unlock value within HLFG.
"This exercise would eliminate administrative overlaps and reduce regulatory compliance costs," it says in the research note. It pegs the target price of HLFG shares at RM16.80.
HLBB closed at RM13.08 and HLFG's stock closed at RM13.80 last Friday.