This article first appeared in The Edge Financial Daily, on July 12, 2018.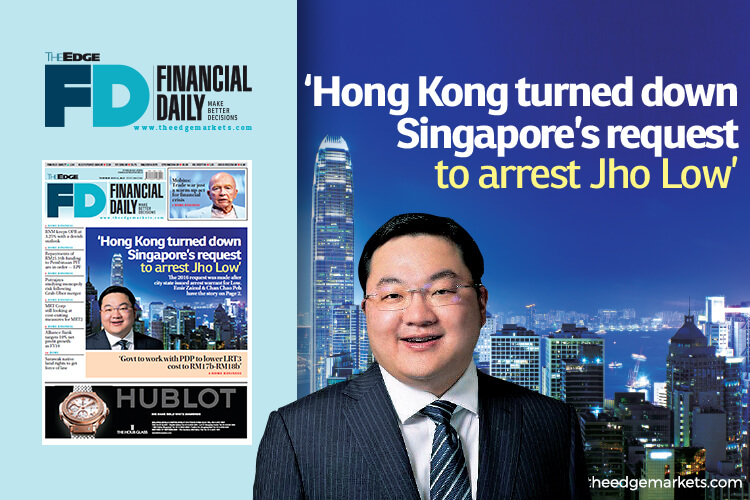 KUALA LUMPUR: Hong Kong authorities had previously turned down a request from Singapore to help arrest businessman Low Taek Jho, the alleged mastermind in the 1Malaysia Development Bhd scandal who is better known as Jho Low.
The Edge Singapore, quoting a spokesperson of the Singapore Police Force yesterday, wrote that the request was sent to the Hong Kong Department of Justice in April 2016. Arrest warrants for Jho Low and his alleged accomplice Eric Tan Kim Loong were issued in April and May 2016 respectively.
At the time, Singapore was acting on information it received and so had requested Hong Kong's assistance to provisionally arrest Low under the Agreement Between the Government of the Republic of Singapore and the Hong Kong Special Administration Region of the People's Republic of China for the Surrender of Fugitive Offenders.
"Singapore's request was declined by the Hong Kong authorities," said the spokesperson in an email response, but did not elaborate.
Low said to have left Macau for mainland China
The South China Morning Post (SCMP) reported yesterday, quoting unnamed sources, that Low is now hiding somewhere in mainland China, after having left Macau either by car or private jet.
One of the sources said there "is almost without doubt [and] safe to say that Low is now on the mainland. In fact, that is probably one of the reasons he came to Macau in the first place".
Earlier the same day, Malaysia's Inspector-General of Police Tan Sri Mohamad Fuzi Harun said authorities in Kuala Lumpur had received an email from their Macau counterparts on July 9, telling them that Low had left the gaming hub.
"The email did not specify when Low left Macau. It is hard to trace him as he is believed to be using multiple passports," he reportedly said.
A Bernama report, quoting Mohamad Fuzi, said the Malaysian police had sought help from other countries through Interpol since last month, and that Malaysia had sent a team to Hong Kong after being informed of Low's presence there. But he had left when the team arrived.
According to SCMP, who reported over the weekend that Low had been living with his family and entourage in luxury apartments in an upscale Hong Kong development, Hong Kong police were understood to have ignored an outstanding Interpol red notice warrant out for Low.
"Under international rules, Hong Kong police are not obliged to execute a red notice warrant if they do not receive a direct request from the country seeking the subject of that notice," it wrote.
Singapore rubbishes report about no request made for Low's arrest
The Singapore Police Force spokesperson, meanwhile, said that Singapore is aware of news reports that there was no request made by Singapore to Hong Kong for the arrest and extradition of Low. "These reports are untrue," the spokesperson said.
"To date, both the warrant of arrest and Interpol Red Notice against Low are in force. Low remains a key person of interest to Singapore in ongoing 1MDB-related investigations," the spokesperson added.
The 1MDB financial scandal has prompted multiple investigations worldwide, including a wide-ranging Swiss probe into two former 1MDB officials and several others on suspicion of bribery of foreign public officials, as well as allegations of misconduct in public office, money-laundering and criminal mismanagement.
US prosecutors as well as investigators in Malaysia had both viewed Low a central figure in what went on in 1MDB. In Singapore, Low is wanted for offences related to money-laundering and the alleged receipt of stolen property.