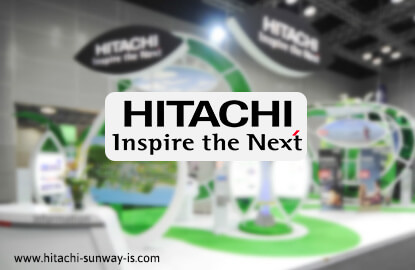 KUALA LUMPUR (Dec 15): One-stop IT services and solutions provider Hitachi Sunway Information Systems Sdn Bhd has forged a partnership with India's Tata Communications to provide its more than 1,000 enterprise customers in ASEAN access to the latter's portfolio of managed network services, managed security services, and unified communications and collaboration offerings.
In a statement today, Hitachi Sunway group chief executive officer and director Cheah Kok Hoong said with Tata Communications on board, the company will be able to strengthen its network services offerings throughout the region by offering a wide range of globally recognised telecommunication products and managed services.
"Customers can expect to access a variety of solutions for MPLS, cloud security and more.
"At the same time, Tata Communications will be able to extend [its] influence in the region through our wide network of customers that span across the region," he said.
Meanwhile, Tata Communications head of global enterprise business Sumeet Walia said that in the past year, Tata Communications had continued to invest in a broad range of service expansions, introducing new advanced managed services built on strong network presence in the emerging and developed markets.
"Our strategic partnerships are a key component of this strategy as we deliver dedicated platforms that enable business transformation for enterprises across the globe.
"Hitachi Sunway's regional presence and credibility were the reason we picked them as our partner here in ASEAN. We are pleased to be working with them to expand our footprint in the region," said Walia.
Hitachi Sunway operates in Singapore, Malaysia, Thailand, Indonesia, Vietnam, Philippines and Myanmar, offering a wide range of services including enterprise resource planning, product lifecycle management, IT infrastructure, data centre and cloud solutions, network solutions, and more.
Tata Communications owns and operates the world's largest and most advanced subsea fibre cable network. Today, over 24% of the world's Internet routes travel over Tata Communications' network, and the company is the only Tier-1 provider that is in the top five by routes in five continents.
"Hitachi Sunway has always strived to be the one-stop IT centre for our customers. Customers no longer want to DIY their business needs. They want to be connected and business ready in the shortest amount of time and that is where Hitachi Sunway excels," said Cheah.
"Tata Communications' products will help us complete our product offering to enable us to offer our customers a complete IT suite. For customers, this means Hitachi Sunway is their single point of contact providing end-to-end digital transformation for their business," he added.