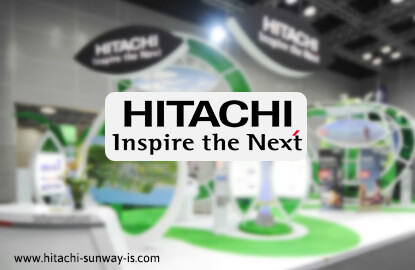 KUALA LUMPUR (April 5): One-stop IT services and solutions provider Hitachi Sunway Information Systems Sdn Bhd will be implementing a document management solution from Siemens Teamcenter (Teamcenter) for HANA Microelectronics Public Co Ltd in Thailand.
In a statement yesterday, the company said HANA will be implementing Teamcenter product data management in customer service, operations (process engineer, test engineer and production), material and production control planner, quality management (document control, auditor, SQE, IQA) and purchasing department.
HANA executive vice president and chief financial officer — MIS and corporate affair Terry Weir said the company chose to work with Hitachi Sunway as it is confident that the latter's vast portfolio and successful implementations for clients made it the right choice.
"As soon as their team began to analyse the problems we were facing, they identified the right solutions and best practices for us to help resolve these issues," he said.
Weir said errors in documentation can be a costly affair for a manufacturer like HANA.
"Each product lifecycle goes through elaborate tests, revisions and confirmations, and mistakes not only delay the production but impact delivery of high quality, error free products to our customers," said Weir.
HANA is an electronics manufacturer in South East Asia, producing a variety of microelectronics, semiconductors, integrated circuits and more. The company employs more than 10,000 employees in plants located in Thailand, China, the US and Cambodia, covering a total manufacturing space of over 1.1 million square feet.
Meanwhile, Hitachi Sunway executive vice president Billy Lee Kok Chi said that with multiple sites and a high product lifecycle turnover, document management can become a complex problem for any company, especially one with the capacity of HANA.
"Any mistakes or oversight in the production cycle will be a costly and stressful mistake for the company. This was why we suggested implementing the Teamcenter document and content management solutions specific to HANA's production needs," said Lee.
"With Teamcenter in place, HANA will be able to track changes and have a visual of the whole product lifecycle from one single point. This helps eliminate any chance for costly errors, while reducing cost and time of production, improving the quality of production and delivery time.
"The right solution can help manufacturers have a better picture of their production right from concept to the final manufacturing of the product, while reducing cost and delivery time. To stay ahead of competition, manufacturers should continue to leverage on solutions that help them perform better in a globalised world," said Lee.