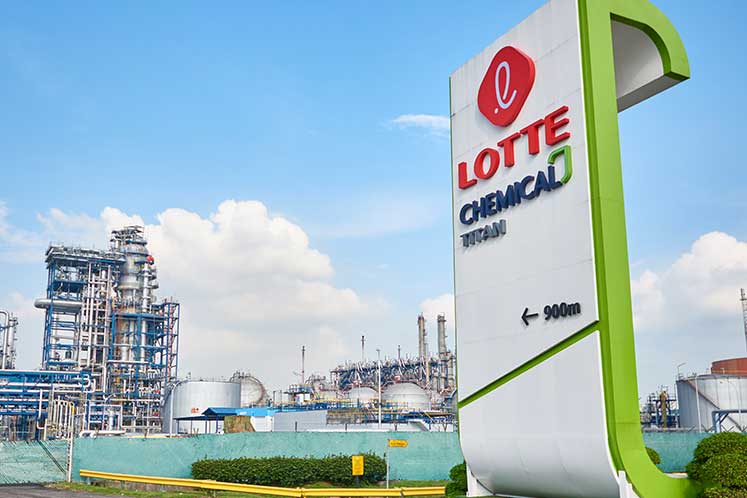 KUALA LUMPUR (April 29): Lotte Chemical Titan Holdings Bhd (LCT) sank into the red in the first quarter of this year, hit by margin squeeze and an increase in write-down of inventories.
The country's largest integrated producer of olefins and polyolefins registered a net loss of RM170.06 million for the quarter ended March 31, 2020 (1QFY20), compared with a net profit of RM55.83 million a year ago, its stock exchange filing today showed.
Revenue slumped 32.63% to RM1.46 billion from RM2.17 billion, due to a lower average selling price and lower sales volume because of weakened demand due to various levels of coronavirus-driven lockdowns in the region since January.
Apart from that, sales volume was also affected by lower production due to a major statutory plant turnaround conducted in March, which caused average utilisation rate for 1QFY20 to fall to 66% versus 87% in 1QFY19.
"The operation of some of the main customers were affected due to the distinctive [movement restrictive] measures introduced in the regions to allow only essential businesses to operate.
"Apart from the virus outbreak, reduction in production quantity resulting from the major statutory turnaround conducted has also contributed to the decrease in sales volume," LCT said.
Besides that, the group's profitability was affected by an increase in write-down of inventories to net realisable value to RM81.4 million, withholding tax from the disposal of Lotte Chemical Titan Nusantara's shares by Chemical Brothers Ltd by RM19.8 million, and share of associates losses by RM21.7 million.
On prospects, LCT said the downside economic risks are now more prevalent due to heightened global concerns on the severity of impact of the Covid-19 pandemic to the global economy.
"This situation also applies to our group as the petrochemical industry correlates with and is heavily dependent on the overall consumption patterns that drive the global economic growth.
It also noted the intense volatility in global crude oil prices following the price war between two major OPEC producers, namely Russia and Saudi Arabia.
On average, it said Brent crude prices saw a steep decline, resulting in enormous price fluctuation for its feedstock costs that correlate with the global crude oil price movement.
"The overall situation is expected to remain fluid for now as nations worldwide are putting in place respective responses to contain the Covid-19 pandemic and introducing monetary as well as fiscal stimulus packages to support the economy and prevent a catastrophic recession."
"Nonetheless, the company is monitoring the market situation closely and will optimise its operations to adapt to the fast-changing and volatile business environment," it added.
Separately, it updated that Bursa Securities has granted it another six months until July 23 to comply with the public shareholding spread requirement. Its public shareholding spread now stands at 23.97%, which is below the minimum 25% required.
At 3.36pm, shares in LCT traded 4% or 6 sen higher at RM1.55, valuing it at RM3.61 billion. The stock is down over 55% from a year ago.