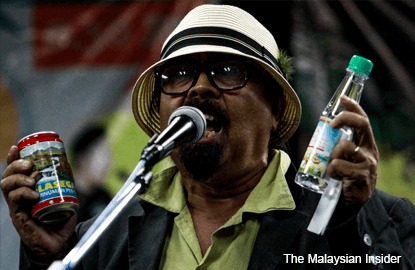 KUALA LUMPUR (Jan 15): The High Court today sentenced activist Hishamuddin Rais to nine month's jail for sedition after allowing the prosecution's appeal to enhance his sentence.
Judicial Commissioner Datuk Nordin Hassan, however allowed the defence's application to suspend the sentence pending appeal in the Court of Appeal with conditional bail of RM6,000.
The Sessions Court in January last year had sentenced Hishamuddin to RM5,000 fine after finding him guilty of the charge.
The defence had appealed against conviction and sentence but the prosecution also wanted a deterrent punishment.
Lawyer Syahredzan Johan said the court also dismissed his client's appeal and set aside the sentence imposed by the lower court.
Hishamuddin, 64, was charged with sedition over statements he made on May 13, 2013 at a public forum where he talked about toppling the Malaysian government.
He is accused of inciting the public to overthrow the government through street demonstrations following the 13th general election held on May 5 that year, which returned the ruling Barisan Nasional to power by a reduced majority.
Nordin said Hishamuddin's speech calling the people to take to the streets to reject the outcome of the 13th general election was a "very serious" crime.
RM5,000 is the maximum fine under the Sedition Act although it also provides for a 3 year jail sentence or both.