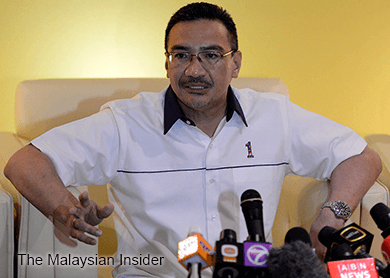 (June 2): What else does Datuk Seri Hishammuddin Hussein want after Prime Minister Datuk Seri Najib Razak made it clear that those who are not with him in his rehabilitation plan for debt-ridden 1Malaysia Development Bhd (1MDB) should resign, a pro-Umno website asks.
News portal myKMU.net today said in an article today that it was puzzling that the defence minister had placed conditions to support Najib over 1MDB, by saying there must be accountability and transparency in solving the company's RM42 billion debts.
It said that Hishammuddin's conditions gave the impression as though Putrajaya was not transparent and accountable in matters involving 1MDB.
It also said that the issue was no longer about 1MDB per se, but the resignation demanded by Najib of certain ministers was because some of their statements were derailing the government's plan to manage the negative perception towards the state fund.
"And the government's handling of 1MDB clearly shows transparency on its part when the bi-partisan Public Accounts Committee is brought in. The prime minister's promise not to protect any wrongdoing is in itself showcasing the highest level of accountability.
"So what more does Hishammuddin want," it asked.
Hishammuddin did not attend last Friday's Cabinet meeting as he was in Singapore for a regional security summit.
Najib's "ultimatum" was revealed by Umno-controlled daily Utusan Malaysia today, which also reported that none of the ministers declared he or she would not support the prime minister on 1MDB.
Hishammuddin had been in Singapore since May 29, the same day Najib convened a special cabinet meeting to unveil plans to restructure 1MDB, which chalked up debts of RM42 billion.
But the defence minister posted on his Twitter account that his support for Najib's "ultimatum" that ministers either resign or support his rehabilitation measures for 1MDB was based on three conditions.
They are: rationalisation of 1MDB; accountability if there is any wrongdoing; and that both conditions are carried out transparently. – The Malaysian Insider