This article first appeared in City & Country, The Edge Malaysia Weekly, on March 29, 2021 - April 04, 2021.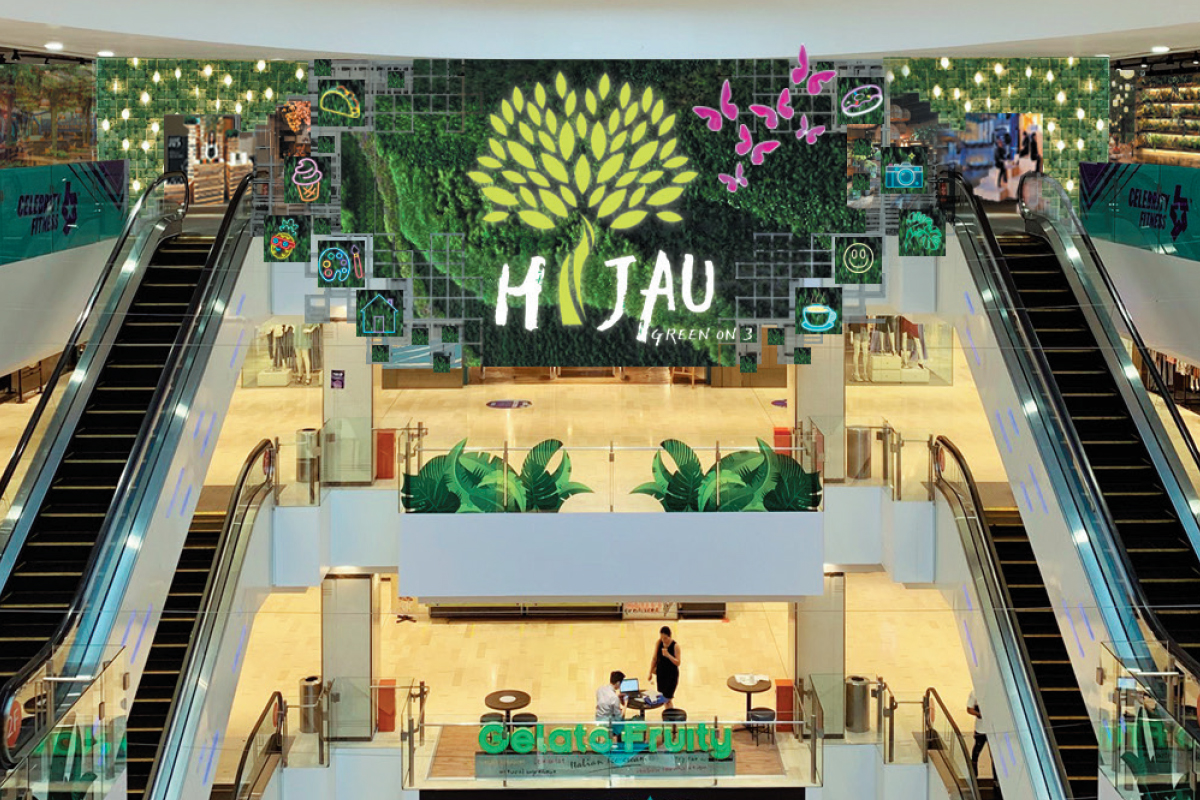 Located along the bustling thoroughfare of Bukit Bintang, Pavilion Group's retail mall Fahrenheit88 has evolved since a RM100 million facelift in 2010 of what was formerly known as KL Plaza. The seven-level retail space with a net lettable area (NLA) of 300,000 sq ft now has more than 170 home-grown and international brand stores. 
Notable tenants include Sephora, Uniqlo and Brands Outlet. Fahrenheit88 also has the first concept store by Carlo Rino in Bukit Bintang and local fashion concept brands such as Figure, Afternoon, Miira Mew, Mirrorcle, Kronoz and Dudu Ann. Other offerings include KOME, Taste of Asia, Daiso Japan, Mr. DIY, Celebrity Fitness, CEO Karaoke Box and Thai Odyssey. Restaurants and cafés such as Al-Amar Express, Connoisseurs Café, KoRyo-Won, All Dak and Grand Harbour Restaurant are among the other tenants.
In an email interview, Fahrenheit88's CEO of retail, Datuk Joyce Yap, shares with City and Country how the mall has grown. "Fahrenheit88 is the result of a complete transformation and now offers shoppers great variety and an affordable lifestyle, fashion and beauty. The MRT has helped the area as a whole, making the Bukit Bintang shopping hub more accessible to the rest of the Klang Valley." 
"Fahrenheit88 is an old building with physical constraints. We overcome that by offering shoppers more experiences, and retailers more opportunities. Malls are not just about shopping, but also a place for people to gather and experience. While we continue to ensure a good mix of tenants, concepts like [the new] Hijau offer shoppers a green space to escape, relax and hang out amid the city's bustle, complemented by exciting retail and experiential opportunities," says Yap, who is also Pavilion Group's CEO of retail. 
Occupying part of Level 3 in Fahrenheit88, Hijau is an extensive revitalisation development with a total NLA of 22,000 sq ft and a gross development cost (GDC) of about RM6 million. Like its name "Hijau" (translated as "green" in Malay) suggests, the new offering promotes a green lifestyle concept that targets a young demographic in a bid to draw more traffic to Fahrenheit88. Hijau is targeted to open its doors by 2Q2021. 
Yap unveils the management's plans for Hijau and talks about the intricacies of opening a new space in the current climate. "No time is ever the right time as there are always challenges. At any given time, there is opportunity as well as risk. 
"We have seen projects launched during good times that have ended up failing and projects launched during downturns that have proven successful. Now is an opportune time for brands to launch, as mall operators are more open to new concepts [and terms] that could be more appealing for tenants," she says. 
Sustainability is key, Yap asserts. "The pandemic could be a thing of the past in a few years and a retail offering has to be able to succeed even then. Retailers ought to take advantage of this time to [fine-tune] their retail concepts." 
On Feb 3, BookXcess signed a Memorandum of Understanding (MoU) with ­Fahrenheit88 to be the main anchor retailer in Hijau. Under the agreement, BookXcess will move from its current location on Level 2 in the mall, where it has been since 2014, to take up approximately 13,000 sq ft of permanent space in Hijau. 
"Today, shoppers place more importance on social change, nature and sustainability. As a result, we are seeing a shift in retail towards more conscious consumption as people revaluate the impact of their purchases on the environment," says Yap. 
"After ongoing dialogue with BookXcess, we find that both of us are heading in the same direction and share the same views on retail. With BookXcess selling mainly overrun print and offering great books at affordable prices, it fits in perfectly with the retail trends we are seeing, hence, our collaboration in Hijau," says Yap. 
She adds that BookXcess will also be the largest bookstore in the Bukit Bintang area. 
BookXcess Sdn Bhd co-founder Andrew Yap says, "BookXcess is thrilled to be a key part of Hijau and we appreciate the confidence and trust that Fahrenheit88 has placed in us. Our presence in Fahrenheit88 has grown from strength to strength through the years and we are excited to take it to the next level."
BookXcess estimates monthly sales of RM500,000 for the first year, with the impact of the Covid-19 pandemic on the economy still lingering, and anticipates 5% to 10% year-on-year growth, he adds. 
According to BookXcess, its space in Hijau will have a young and modern aesthetic. It will be the first bookstore with a curated corner that is solely dedicated to fashion, design, architecture and art. Many related activities and events will also be held at Fahrenheit88 to create a niche book haven in Kuala Lumpur's golden triangle, both parties add. 
Target audience
"Hijau's target audience will be shoppers that are drawn to green, eco-conscious consumerism. It will be a destination for immersive on-ground activations, with the aim of developing it into a hub of exciting shopping, experiences and relaxation," says Yap. 
Brick-and-mortar and online shopping have to co-exist despite the rise of the latter, she opines. "Leveraging digital technologies can give better brand exposure, enhance the shopping experience and provide opportunities to exceed customer expectations, among others. Having said that, online shopping cannot totally replace the offline experience. In the case of BookXcess, today's bookstores are very different from those of yesteryear. There is just something about walking into a bookstore and the tactile experience of choosing a book that is completely different from purchasing a book online or downloading it."
In terms of tenant mix, Hijau will be carefully curated to complement the other offerings in Bukit Bintang. "Hijau will have a tenant mix of F&B, artisanal home decor and plants, aromatherapy, skincare, IT gadgets and more. It will be a destination for immersive on-ground activations, with the aim of developing it into a hub of exciting shopping, experiences and relaxation," says Yap.
Although the other new tenants have yet to be disclosed, she gives a hint of the type of businesses that will be occupying the new space. "The upcoming tenants in Hijau will certainly complement the current tenants in the mall as well as the neighbouring Pavilion KL. We have a carefully curated retail mix that will appeal to shoppers who are drawn to Hijau's concept. "We do hope to draw in entrepreneurs with our attractive rents, invaluable marketing support, promotional opportunities, as well as a wider reach through our platforms to support their business. The types of packages offered will also depend on a tenant's concept and how much value they can bring to the mall," she says. 
Strategies and challenges
The local retail segment has been through an exceptionally difficult time in the wake of the Covid-19 pandemic. 
Says Yap: "Pandemic or not, there are always challenges. Today, malls need to look at tenant mix, marketing and factors that are evolving all the time, such as lifestyles, target market and preferences." 
"It is hard to plan for the long term, therefore tactical promotions and solutions are needed. For example, monthly tracking of the market to find out new trends and shopper behaviours [and so on] is essential. What will happen in the future depends on the evolution of the industry, market and target market," says Yap.