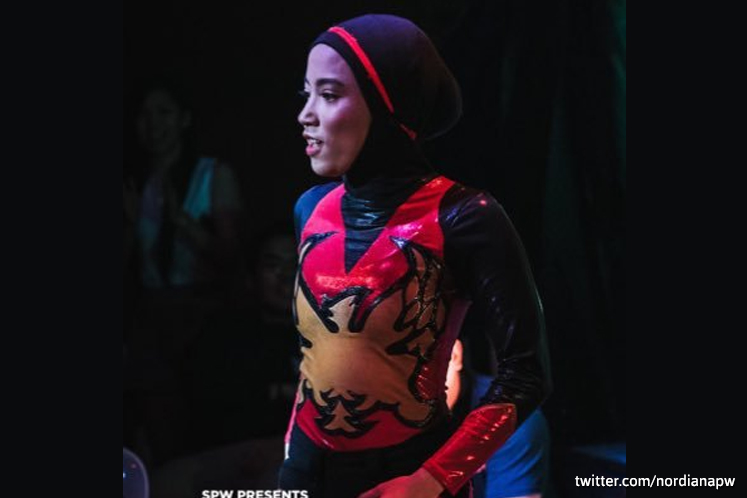 KUALA LUMPUR (April 2): Malaysian professional wrestler Nor "Phoenix" Diana has been featured on the cover of Forbes magazine among other honorees selected for its "30 under 30 Asia Class of 2020".
Nor "Phoenix" Diana, 20, is Malaysia's first hijab-wearing female pro wrestler.
"I want to inspire women not just in hijab but women in general. Nothing can stop us as long as we have passion and believe in ourselves," she said. 
Today, Forbes announced its fifth annual "30 Under 30 Asia" list, featuring 300 young entrepreneurs, leaders and changemakers across Asia, all under the age of 30, who are challenging conventional wisdom and rewriting the rules for the next generation. 
Amidst challenging times and global uncertainty, the Forbes 30 Under 30 Asia Class of 2020 features bright and innovative leaders who are ready and equipped to adapt to whatever the future may hold, with 30 honorees selected for each of the 10 categories.
The categories are The Arts (Art & Style, Food & Drink); Entertainment & Sports; Finance & Venture Capital; Media, Marketing & Advertising; Retail & E-Commerce; Enterprise Technology; Industry, Manufacturing & Energy; Healthcare & Science; Social Entrepreneurs; and Consumer Technology.
Among those featured on this year's list are K-pop girl group Twice and actress So-dam Park — best known for her role in Oscar-winning film Parasite — from South Korea; the current world No. 1 female tennis player Ashleigh Barty and the founder of MyraSwim Bianca Anstiss from Australia; 14-year-old racing prodigy Juju Noda from Japan; Francis Plaza, founder and chief executive officer (CEO) of PayMongo, from the Philippines; Bain Wu, CEO of AI startup INFIMIND, from China; Pulitzer Prize-winning journalist Kyaw Soe Oo from Myanmar; Justin Lim, co-founder of Fish & Chicks, from Singapore; Ajeesh Achuthan, co-founder of Open, from India; and sisters Isabel and Melati Wijsen, co-founders of Bye Bye Plastic Bags, from Indonesia.
Forbes 30 Under 30 Asia editor Rana Wehbe said: "This year's Forbes 30 Under 30 Asia list-makers inspire optimism in what is promising to be a tough year ahead. They are a resilient and energetic bunch who are facing challenges head-on and actively working for a future that matches their aspirations."
"Young women under 21 especially stand out in our 2020 list: From Malaysia's hijab-wearing wrestler to Bangladesh's first female comedian and a social entrepreneur helping farmers in the Philippines improve their livelihoods — these fierce game-changers are shattering gender, age and cultural stereotypes across industries," Wehbe added. 
The 2020 list features a diverse set of 30 Under 30 honorees, with 22 countries and territories represented across the Asia-Pacific region. India leads the region with the highest number of honorees of 69 on this year's list, followed by China with 41. Japan came in third with 31 honorees while South Korea took the fourth place with 25.
Australia, Indonesia and Singapore are tied in fifth place with 22 honorees each.
Selected from over 3,500 nominations, researched by Forbes journalists from across the region and vetted by industry veterans, this select group of relentless individuals are disrupting industries and tackling major global issues. 
The criteria for honorees making the list include their demonstration of leadership, how they embody the entrepreneurial spirit that is synonymous with Forbes, and their potential of success in their industry. Other factors like innovation, disruption, and size and growth of their ventures in some categories play a role in making the final decision.
Featured highlights on the "30 Under 30 Asia" list include:
•The Arts (Art & Style, Food & Drink): Latesha Randall, 29, New Zealand, co-founder, Raglan Coconut Yoghurt
Entertainment & Sports: Nor "Phoenix" Diana, 20, Malaysia, professional wrestler 
Finance & Venture Capital: Aditya Prasad, Harsh Pokharna and Gaurav Kumar, 26, 28 and 28, India, co-founders, OkCredit 
Media, Marketing & Advertising: Raba Khan, 20, Bangladesh, entertainer, The Jhakanaka Project 
Retail & E-Commerce: Donald Kng and Nico Li, 29 and 28, China, co-founders, Vetreska
Enterprise Technology: Hyunsoo Kim, 29, South Korea, co-founder and CEO, Superb AI
Industry, Manufacturing & Energy: Marius Suntanu, 29, Indonesia, co-founder, Yummy Corp
Healthcare & Science: Milad Mohammadzadeh and Sadaf Monajemi, both 29, Singapore, co-founders, SeeMode 
Social Entrepreneurs: Louise Mabulo, 21, The Philippines, founder, The Cacao Project 
Consumer Technology: Shota Iwasaki, 24, Japan, founder, Shukatsunet