This article first appeared in The Edge Financial Daily, on October 11, 2019.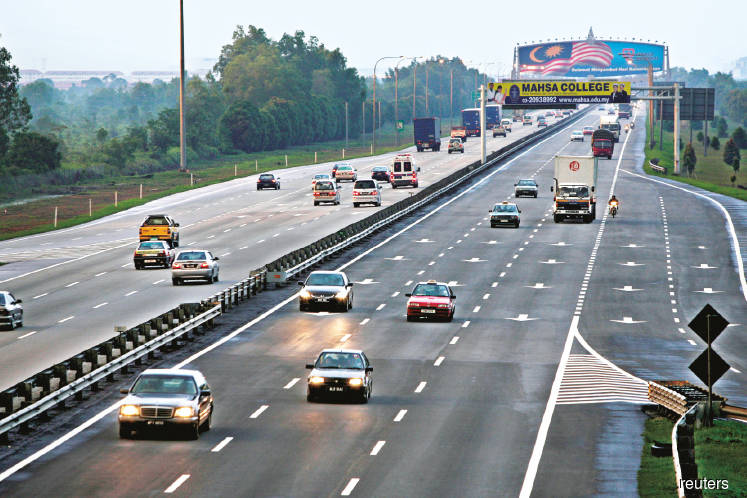 There are two distinct types of proposals, one involving the government selling its highways and the other acquiring such assets, says government official. Photo by Reuters
KUALA LUMPUR: Today the cabinet is slated to announce the government's decision on the toll highways — to sell or to buy back?
There are now five proposals on the table, four involving a proposed takeover of PLUS Malaysia Bhd and one relating to the ministry of finance's (MoF) plan to buy over four tolled highways owned by Gamuda Bhd and its 43.56% listed unit Lingkaran Trans Kota Holdings Bhd for RM6.2 billion.
"There are two distinct types of proposals, one involving the government selling its highways (PLUS) and the other is acquiring such assets ... so it will have to be either one — exit the highway business or consolidate it," said a government official.
Yesterday, Widad Business Group, the flagship of Tan Sri Muhammad Ikmal Opat Abdullah, joined in the race for PLUS — offering Khazanah Nasional Bhd, the highway operator's 51% shareholder — RM1.5 billion cash to exit, leaving him to partner the Employees Provident Fund (EPF), the 49% shareholder, failing which he was willing to buy out both entities for RM3 billion cash.
PLUS has under its belt five concessions. Widad and Muhammad Ikmal's offer seeks to waive toll compensation worth RM2.7 billion incurred by the government and owed to the current concessionaire for the abolishment of tolls in Plaza Batu Tiga and Bukit Kayu Hitam.
Widad added that it could look into an extension of the highway concessionaires for another 20 years after the conclusion of the first concession. It seems that Widad has identified a global strategic investor to fund the proposed acquisition, and would also utilize internally-generated funds and undertake a sukuk and equity issuance, and offer a 25% to 40% reduction in current toll rates.
Maju Holdings Sdn Bhd, the flagship company of Tan Sri Abu Sahid Mohamed, also raised its offer for PLUS by offering to absorb RM2.7 billion in compensation owed by the government, and reduced toll charges by a quantum of 25% to 36%.
Maju Holdings revised an earlier proposal and is offering to buy PLUS at an enterprise value of RM34.9 billion, which includes the highway operator's debt to bondholders.
"With the latest offer that we have submitted to the government, existing shareholders of PLUS will benefit from an estimated total equity internal rate of return of approximately 16%. This represents a return that far surpasses the cost of equity for a majority of other toll road concessions, both globally as well as across Southeast Asia," said Maju Holdings.
Earlier this month, Malaysian-led Hong Kong-based private equity firm RRJ Capital upped its recent proposal to the government to acquire PLUS for RM3.5 billion from RM3 billion earlier.
RRJ's, which has US$15 billion (RM62.85 billion) in assets under management, plans entail acquiring 100% equity interest in PLUS, and assuming debts which are about RM30 billion. Other salient features of RRJ's plan involve a 20-year extension to the concession, and the government continuing to guarantee some of PLUS' debt.
These private proposal are vying with Khazanah's plan to take over the highways owned by PLUS for RM30.8 billion, Projek Lintasan Kota Holdings Sdn Bhd for RM3.1 billion, Gamuda for RM5.6 billion and IJM Corp Bhd for RM2.7 billion, via a mix of cash and the issuance of debt papers.
The plan entails Khazanah forming a special-purpose vehicle and forming a highway trust. There could also be new aspects to this proposal by Khazanah, such as raising funds via debt papers and widening portions of the North-South Expressway, after which its existing concession will be extended but a discount offered to the users.
Meanwhile, the MoF's acquisition plan has also hit some headwinds as the sale of highways was brought about to reduce the government's debts, and slash toll rates.
Checks on CTOS LitE Report indicate that PLUS, for its financial year ended Dec 31, 2018 (FY18), suffered an after-tax loss of RM93.53 million from RM3.83 billion in revenue.
As at end-2018, PLUS had total liabilities of RM32.8 billion, and total assets of RM31.61 billion. It is also noteworthy that from 2014 to 2018 PLUS paid out almost RM3.2 billion in dividends.
PLUS as at end-December 2018 had accumulated losses of RM4.59 billion.
In July, PLUS explained to The Edge Malaysia weekly its accumulated losses in FY17 were due to the privatisation exercise that was completed in January 2012.
PLUS acquired all assets and liabilities of five highway concessions at a fair value of RM23 billion and issued a series of bonds totalling RM30.6 billion to fund the acquisition cost as well as the refinancing of all its previous borrowings.
The acquisition cost of RM23 billion was capitalised in accordance with Malaysian Financial Reporting Standards, which is amortised to the income statement as a charge over the remaining concession period. As such as at end-2017, PLUS booked in an accumulated amortisation of RM5.46 billion, together with the total finance cost of RM9.18 billion over six financial years resulting in the accumulated losses of RM3.98 billion to PLUS as at FY17.
As for PLUS' penchant to pay dividends, until 2017 out of the total dividend of RM4 billion made by PLUS to its two shareholders — UEM Group and the EPF between 2013 and 2017, more than 50% of the amount i.e. RM2.2 billion was from the excess cash brought forward and the savings derived from PLUS' refinancing exercise back in January 2012, said the highway operator.