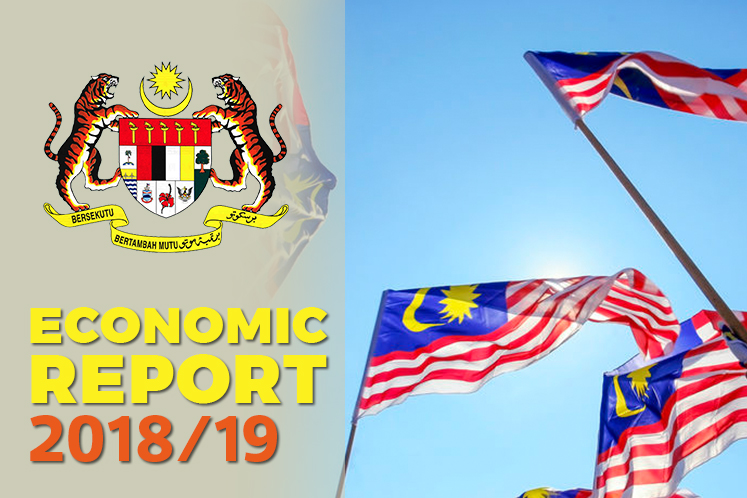 (Nov 2): These are the highlights of the Economic Report 2018/19:
> 4.9% GDP growth in 2019
> Real GDP is projected to grow at 4.8% in 2018 and 4.9% in 2019 supported mainly by domestic demand.
> Global economy to grow at 3.7% in 2019
> Global growth is expected to remain favourable at 3.7% in 2018 and 2019. The growth is supported by stable growth in the US as well as in most emerging market and developing economies (EMDEs).
> Growth in advanced economies is expected to expand 2.4% in 2018 and 2.1% in 2019, while the EMDEs is projected to be sustained at 4.7% in 2018 and 2019.  
> Unemployment stable at 3.3%
> The labour market is expected to remain favourable in 2019, with more jobs created and unemployment projected to be at 3.3% (3.3% in 2018f and 3.4% in 1H2018).
> The total number of employed persons is projected to increase to 15.06 million from an estimate of 14.77 million for the full year (14.63 million in 1H2018)
> Cost of living aid will be continued
> The 2019 Budget adopts a two-pronged approach in improving the wellbeing of Malaysians by easing their burden as well as enhancing income opportunities.
> In 2018, the government allocated RM6.8 billion for cost of living aid which has benefitted 7.2 million households. The programme will be continued in 2019 with a more targeted approach.
> Accommodative monetary policy in 2019
> In 2019, monetary policy will remain accommodative and considerations for adjustments will depend on risks surrounding the outlook for domestic growth and inflation.
> Strong loan quality, sufficient liquidity
> Loan quality remained strong with stable net impaired loans ratio at 0.98% as at end-July 2018, while the loan lost coverage ratio at 128% and liquidity remains sufficient with surplus ringgit placed with Bank Negara Malaysia at RM177.8 billion.
> Continued spending on upgrading and rebuilding schools
> Facilities at schools will be upgraded and maintained to ensure that public schools are the school of choice.
> In the 2018 Budget, the government allocated RM1.3 billion for rebuilding dilapidated schools nationwide and RM550 million for school upgrading and maintenance. In 2019, both programme will be continued to ensure the quality of infrastructure at public schools.
> SMEs that rely on low-wage workers at risk of losing business
> Changes in the minimum wage could also cause a potential impact on businesses' production costs and competitiveness. Businesses, in particular, SMEs relying on low-wage workers, are at the risk of losing their businesses due to the inability to comply with the minimum pay requirement.
> Firms are encouraged to substitute labour for capital through automation and mechanisation when relative cost of labour increases.
> House prices rise faster than household income
> Between 2009 and 2016, average house prices rose 9.3% exceeding the growth in average household income of 8.1%
> Promoting an entrepreneurial state
> The government will jump-start a new version of the public private partnership (PPP) in promoting investment and entrepreneurship. Both land sale and land development will be done on an open tender basis. Meanwhile, the government will reduce its involvement in business and allow the private sector to drive economic growth.
> Malaysia an ageing nation by 2020
> As of 2017, the number of people aged 65 and above is approximately two million or 6.3% of the total population. By 2020, it is projected to increase to 2.4 million, constituting about 7% of the total population, hence becoming an ageing nation.
> Once Malaysia reaches the status of an ageing society, the speed of ageing will accelerate. It will take about 20 years for the country to double its elderly population to become an aged society by 2040. On contrary, France took 115 years to become an aged society from an ageing society, while Japan 24 years and South Korea 18 years.
> Medicine expenditure double within five year since 2013
> The expenditure on medicines has almost doubled within five years from RM2.2 billion in 2013 to RM4.2 billion in 2018. Medicine expenditure will increase in the future with an ageing population.