This article first appeared in The Edge Malaysia Weekly, on December 17, 2018 - December 23, 2018.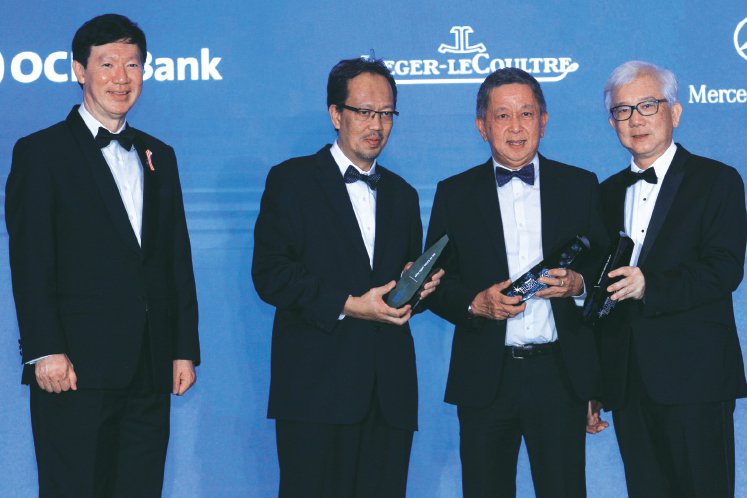 AEON Credit Service (M) Bhd's (ACSB) growth over the last few years has been impressive, fuelled by its motorcycle and personal financing businesses. Investors are keen to see if the non-bank financial institution can keep up the momentum as the economy slows.
The group's net profit expanded in the last three financial years, peaking at RM300.06 million in the financial year ended Feb 20, 2018 (FY2018) — marking the first time it crossed the RM300 million mark — compared with RM215.73 million in FY2015. In The Edge BRC award evaluation period of FY2014 to FY2017, the company's net profit grew at a three-year compound annual growth rate (CAGR) of 14.8%, the highest among its peers.
While its return on equity (ROE) came down slightly in each of those years to 22.59% in FY2018 from 34.23% in FY2015, it, nevertheless, was a strong showing, especially when compared with Malaysian banks' average of about 11%.
AEON Credit's share price doubled from RM7.80 as at June 30, 2015, to RM14.40 on June 29, 2018, indicating a three-year CAGR of 22.7%.
The company pays dividends every year, with shareholders getting a net dividend per share of 41.02 sen in FY2018, the lowest in the three-year period. In FY2017, shareholders received a net dividend of 63 sen per share.
Last year, the company undertook a rights issue of irredeemable convertible unsecured loan stocks as well as a bonus issue.
To its credit, AEON Credit has consistently managed to grow its annual revenue in double digits since its listing in 2007.
However, with the economy expected to slow down, there are concerns that ACSB's asset quality could come under pressure.
Its non-performing loan ratio as at end-August stood at 2.07%, an improvement from 2.26% three months earlier.
ACSB is doubling its capital expenditure to RM120 million in FY2019 as it looks to transform its branches and upgrade web applications and self-service terminals. As at February, it had 66 branches that needed upgrading.
Chief financial officer Lee Kit Seong had said that he expects FY2019's growth to be fuelled by several factors, including its branch transformation, digital initiatives, system enhancement and product rollouts.
Note that ACSB has started tapping the M40 segment — the middle 40% of households with a monthly income of between RM3,860 and RM8,319 — while keeping to stringent credit approvals and control practices.
The company is also just entering the mobile wallet space with the launch of its e-wallet and e-money cards. It aims to issue one million e-money cards within 12 months of their launch by converting existing AEON Credit card members as well as signing up new members, Lee said in August.
According to him, ACSB has an advantage in that it can leverage the six million members of AEON group, including those of retailer AEON Co (M) Bhd, hypermarket chain AEON BiG and its own members.
In the second quarter of FY2019, ACSB reported a 13% rise in net profit to RM80.64 million on the back of a 6.7% increase in revenue to RM332.09 million.
The company attributed the improved revenue to an increase in financing receivables for its motorbike, automotive and personal financing businesses. Gross financing receivables expanded 11.5% to RM7.79 million.
Its performance in the first half of FY2019 came in marginally better than expected with net profit 22% higher year on year at RM179.9 million, accounting for 55.6% of analysts' consensus forecast for the full year. Revenue grew 7.2% to RM657.81 million.
At the time of writing, Bloomberg data showed one analyst with a "buy" call on the stock and five with a "hold" recommendation. Target prices ranged from RM15.20 to RM18.40 with the 12-month average target price at RM16.10.
"The outlook for the group's business remains positive with continuous sales growth in 1HFY2019 and strategic product offerings to continually expand the M40 market segment. This bodes well for the company in terms of capturing market share and strengthening its asset quality in the long run. However, while we remain optimistic about its prospects, the run-up in its share price recently indicated that the positives have already been priced in," says MIDF Research in an Oct 5 report. It has a "neutral" call on the stock.