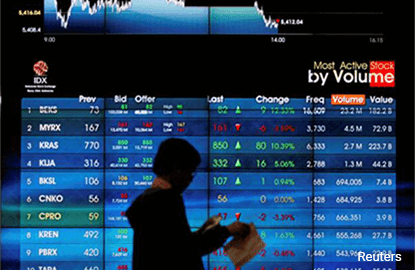 (Feb 10): Most Southeast Asian stock markets rose on Friday, mirroring gains in Asian shares and on Wall Street overnight, after U.S. President Donald Trump said he would unveil a major tax reform that would include tax cuts for businesses and individuals.
Asian shares rallied to an 18-month peak on upbeat Chinese trade data and strong gains on Wall Street, while the three main U.S. market indexes surged to new record highs, after Trump promised a "phenomenal" tax plan over the next two or three weeks.   
" promised something spectacular where a new tax regime may come through, so the U.S. rallied strongly and that trickled through to the Asian markets," said Nicholas Teo, trading strategist at KGI Securities (Singapore) Pte Ltd.
Singapore shares rose as much as 0.75% to hit a more than 15-month high, outperforming other markets in the region.
Financial stocks led the gains, with United Overseas Bank up 1.4%, DBS Group Holdings rising 1% and Oversea-Chinese Banking Corporation inching up 0.3%.
"The three big banks in Singapore which have the biggest weightage share in the market have led the rally from as far back as November," Teo said. "We have seen a few broker upgrades for them and in the next two weeks we will see results from them and the market is eagerly anticipating those numbers."
Malaysian shares hit their highest in more than 9 months, boosted by financial stocks.
CIMB Group Holdings rose to its highest in 18 months, while RHB Bank climbed as much as 2.8%.
Indonesia was up 0.4%, with consumer staples and financials leading the gains.
PT Eagle High Plantations rose 9%, while PT Bank Negara Indonesia (Persero) edged 0.8% higher.
Thai shares rose slightly, while the Vietnam index hit its highest in one week, helped by financials and utilities. 
Philippines, however, slipped as much as 0.8%, hurt by industrial, real estate and financial stocks.
"The market has been moving sideways but from the start of the year we have been up, so I think I can attribute this pullback during the day to some profit-taking," said Jose Vistan, research head and vice president at AB Capital Securities Inc.
GT Capital Holdings, Aboitiz Equity and Megaworld Corp all lost more than 2% each. 
SOUTHEAST ASIAN STOCK MARKETS:
Change at 0425 GMT
| | | | |
| --- | --- | --- | --- |
| Market | Current | Previous Close | Pct Move |
| Singapore | 3099.18 | 3079.96 | 0.62 |
| Bangkok | 1586.26 | 1583.25 | 0.19 |
| Manila | 7196.75 | 7252.66 | -0.77 |
| Jakarta | 5390.673 | 5372.077 | 0.35 |
| Kuala Lumpur | 1700.3 | 1688.5 | 0.70 |
| Ho Chi Minh | 702.96 | 700.65 | 0.33 |
Change this year
| | | | |
| --- | --- | --- | --- |
| Market | Current | End 2016 | Pct Move |
| Singapore | 3099.18 | 2880.76 | 7.58 |
| Bangkok | 1586.26 | 1542.94 | 2.81 |
| Manila | 7196.75 | 6840.64 | 5.21 |
| Jakarta | 5390.673 | 5296.711 | 1.77 |
| Kuala Lumpur | 1700.3 | 1641.73 | 3.57 |
| Ho Chi Minh | 702.96 | 664.87 | 5.73 |