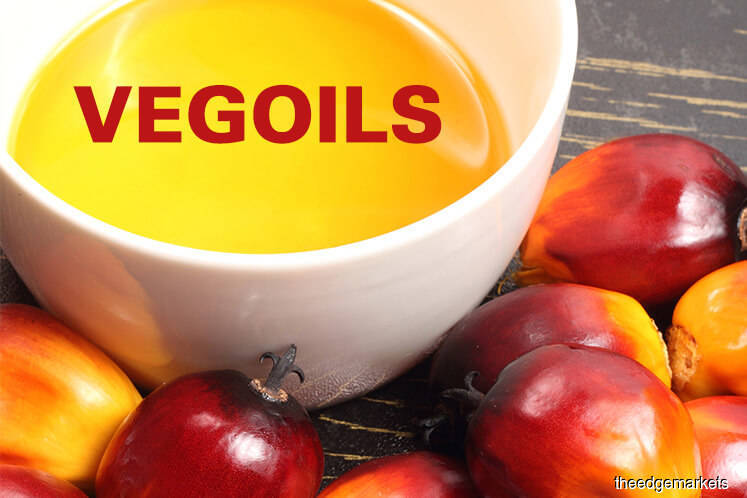 KUALA LUMPUR (June 18): Malaysian palm oil futures edged up during Tuesday's first half session of trade, with support from elevated Chicago Board of Trade (CBOT) soyoil prices and a weaker ringgit.
The benchmark palm oil contract for September delivery on the Bursa Malaysia Derivatives Exchange was last up 0.6% at RM2,046 (US$489.30) per tonne at the midday break.
"Soyoil prices and the weaker ringgit are seen supporting palm," said a Kuala Lumpur-based futures trader.
The trader also said data from the Malaysian Southern Peninsular Palm Oil Millers Association on Monday showing a 26.44% drop in production also helped sustain the palm futures' upward momentum in the near term.
Palm oil prices are affected by movements in related edible oils, with which it competes for global market share.
The Chicago July soybean oil contract last edged up 0.3%. The September soyoil contract on the Dalian Commodity Exchange rose 0.3% and the Dalian September palm oil contract was also up 0.2%.    
The ringgit, which fell nearly 0.3% against the US dollar on Monday continued to fall 0.08%, making palm oil more attractive to buyers holding foreign currency.
Palm oil may rise to RM2,068 per tonne as it has broken a resistance at RM2,028, Wang Tao, a Reuters market analyst for commodities and energy technicals said.
Palm, soy and crude oil prices at 0556 GMT
| | | | | | | |
| --- | --- | --- | --- | --- | --- | --- |
| Contract          | Month    | Last  | Change     | Low   | High  | Volume |
| MY PALM OIL       | JUL9     | 2032   | +9.00    | 2019   | 2039     | 576 |
| MY PALM OIL       | AUG9     | 2044  | +13.00    | 2024   | 2050    | 5070 |
| MY PALM OIL       | SEP9     | 2046  | +12.00    | 2027   | 2053   | 10477 |
| CHINA PALM OLEIN  | SEP9     | 4378   | +8.00    | 4368   | 4390  | 225742 |
| CHINA SOYOIL      | SEP9     | 5502  | +14.00    | 5488   | 5530  | 225442 |
| CBOT SOY OIL      | JUL9    | 28.22   | +0.08   | 28.08  | 28.36    | 6187 |
| INDIA PALM OIL    | JUN9   | 516.30   | +3.50  | 513.10  | 517.9     | 364 |
| INDIA SOYOIL      | JUN9    | 760.2   | +1.30  | 759.45    | 761     | 820 |
| NYMEX CRUDE       | JUL9    | 51.84   | -0.09   | 51.77  | 51.99    | 9854 |
Palm oil prices in Malaysian ringgit per tonne
CBOT soy oil in US cents per pound
Dalian soy oil and RBD palm olein in Chinese yuan per tonne
India soy oil in Indian rupee per 10 kg
Crude in US dollars per barrel
(US$1 = RM4.1815)
(US$1 = 69.7850 Indian rupees)
(US$1 = 6.9278 Chinese yuan)