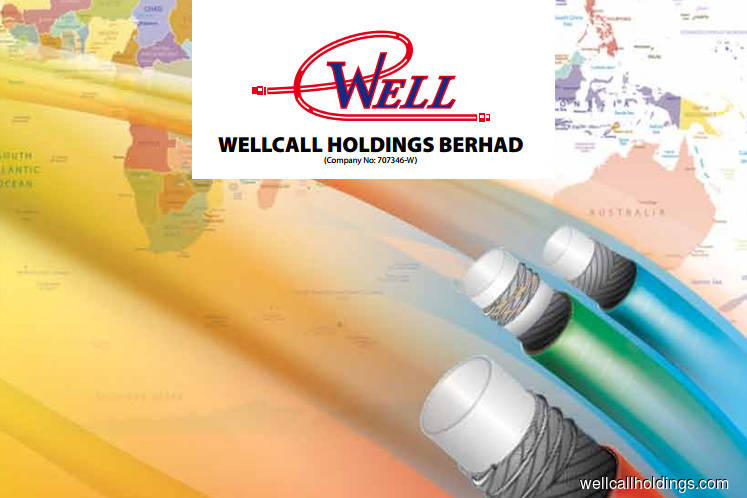 KUALA LUMPUR (Feb 26): Wellcall Holdings Bhd's first quarter net profit fell 17% year-on-year to RM7.95 million from RM9.5 million, mainly due to higher cost of production resulting from rising cost of raw material prices.
Its revenue for the first quarter ended Dec 31, 2017 (1QFY18) however, went up 12% to RM42.26 million from RM37.85 million, on the continued recovery of global demand for industrial rubber hose, mainly from the US market, its filing with Bursa Malaysia today showed.
The export markets made up about 90% of Wellcall's revenue, while the local market contributed 10%, Wellcall said.
The group declared a first interim dividend of 1.55 sen per share or RM7.72 million in all, in respect of the financial year ending Sept 30, 2018 (FY18). The dividend will be paid on March 29. 
Going forward, it said demand for industrial rubber hoses will see a gradual recovery from both emerging and developed economies, while the group plans to stay ahead of market trends and respond swiftly to changes through automation and research.
"In the near term, raw material prices are expected to fluctuate higher due to supply and demand mechanism of raw materials and foreign exchange volatility. The outlook and headwinds of the global economy continue to remain challenging," Wellcall added.
However, it said it would leverage on its extensive customer network, productivity, quality services and product range, to enhance its competitive edge.
Hence, its prospects for FY18 remain positive, with the challenges ahead, the filing added.
At 2.33pm, the counter dipped five sen or 3.21% to RM1.51 after 374,900 shares were done, bringing a market capitalisation of RM781.07 million.