This article first appeared in Capital, The Edge Malaysia Weekly, on June 15, 2020 - June 21, 2020.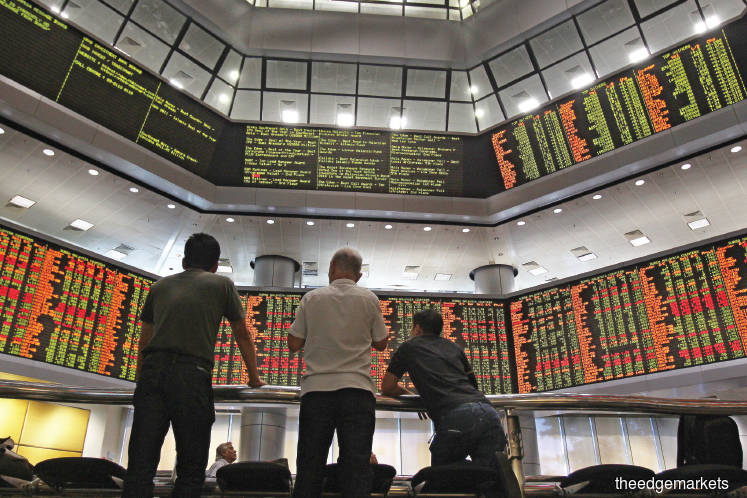 AFTER entering bull territory late last month, the local bourse has recouped most of the losses recorded during the selloff in March following the pandemic outbreak and oil price plunge. Year to date, the benchmark index has declined 2.7%.
According to a Bloomberg report last week, the Securities Commission Malaysia (SC) plans to raise the daily online settlement limit for equity trading to RM100,000 in the second half of the year, from RM30,000 to RM50,000 currently, as interest from small investors in the stock market grows.
Areca Capital Sdn Bhd CEO ­Danny Wong believes the move is vital as Malaysia embraces the new digital era.
"We have no choice but to adapt to the new digital way of doing business. Let's say you want to buy 10,000 Public Bank shares; [that] is already over RM100,000. So how am I going to facilitate the settlement as I would need to transfer the amount over five to six days?"
He stresses, however, that the move to raise the settlement cap is not to encourage investors to buy shares but to ease the payment constraints.
"We must differentiate [between] payment and share buying. It's just a mode of payment; it does not mean buying more shares. We must facilitate the payments. The whole world is progressing to digital, so we must also think of that," Wong explains.
Rakuten Trade Sdn Bhd head of research Kenny Yee agrees, saying the move is meant to reduce the difficulties faced by investors in settling payment.
"If investors want to trade more, they won't have to make more transactions [to settle the amounts owed to the securities firm]."
While he does not expect the move to increase risk by much, Yee says the main concern is that stock prices are currently at high levels.
"The market is already quite volatile now. It's just that it is on the uptrend so people do not feel it. People only feel the volatility when the market goes down," he adds.
For Inter-Pacific Securities Sdn Bhd head of research Victor Wan, the increase in the daily online settlement limit is logical considering the recent high trading volume.
"If you look at the trading volume of late, it is almost 10 billion shares per day, mostly from retail players. I presume they are already trading quite a large number of shares, so the RM30,000 cap is still very small in the context of what's happening right now."
Despite that, Wan says the move should not be seen to be encouraging risk taking, which depends on individual risk appetite.
As for the rally in equities, he says he does not foresee strong catalysts for the market as 2Q corporate earnings will "look ugly" as a result of the Movement Control Order.
"If the results turn out to be better than expected, then there is more room for recovery. Having said that, stock prices have already priced in a V-shaped recovery. Going forward, it will very much rely on corporate earnings as well as the economy. Volatility risk is much higher due to the high base for now," Wan explains.
Given the active equity trading, Bursa Malaysia has cautioned investors that proper research and assessment is crucial to enable them to invest according to their risk appetite and investment goals.
"Investors should take advantage of the vast resources that are readily available in the marketplace to help them strengthen their knowledge in the fundamental and technical aspects of trading, as well as understand the risk-rewards involved. The information can be accessed from Bursa Marketplace or various other sources, including brokers and investment advisers," the regulator tells The Edge.
When asked if the ban on short-­selling will be extended after June 30, Bursa says no decision has been made yet.
"We are closely monitoring developments that are taking place in this space locally as well as regionally. An announcement on this will be made at a later date," it says.
On March 23, Bursa and the SC announced a temporary suspension on short-­selling to April 30, later extending it to June 30, to mitigate potential risks arising from heightened volatility and global uncertainties.
The suspension of short-selling involved intraday short-selling and restricted short-selling (RSS), as well as intraday short-selling by proprietary day traders.
There were 215 stocks on the approved list for RSS.
Short selling to increase volatility
Inter-Pacific's Wan believes the market will become more volatile when the suspension on short-selling is lifted. "When you have the other option (short-selling), I think, certainly, it will bring more volatility."
Areca's Wong says he does not support short-selling from an ­ethical point of view.
"When times are bad, you ban it. When times are good, you welcome it … We are not markets like the US where you need a certain velocity. I don't see short-selling creating velocity.
"You sell whatever you don't hold, which is not ethical. We all go by responsible investing. I'm totally against short-selling," he says.
New account openings surge
In a June 4 report, CLSA said its checks with industry sources indicate that new trading account openings for January to May this year surged year on year, in tandem with the active equity market. The account openings peaked in March, doubling y-o-y.
"Most retail broking houses have struggled to process new accounts. The number of active CDS accounts (defined as accounts that have been trading over a period of three years) is estimated to have increased 5% to 6% from December to May. This is a notable trend compared with a stagnation of trading accounts in the previous two years."
While share margin financing accounts have increased in terms of utilisation, CLSA notes that the number of accounts in the system is still small.
"The proportion may vary across brokerages as it depends on what is offered to retail investors. Bursa Malaysia does work with (retail) broking houses with campaigns to encourage retail stock trading. Among the banks, share margin financing comprises less than 1% of total loans.
CLSA notes that most brokerages have extended discretionary financing for retail investors who wish to extend their settlement periods beyond T+2, to up to T+7, but at relatively high charges.
"Note that this form of financing does not appear as share margin financing. While this is available, we gather that very few retail investors use the facility. Contra trading has increased, according to checks with industry players."
CLSA adds that retail participation has surged to a high of 40% since the MCO started. These levels were last seen in 2002, 2004 and 2007. If sustained, it would raise trading velocity to close to 50%.
Meanwhile, foreign institutional participation has dwindled to the mid-teens, which is unsurprising given the lack of fundamental market catalysts. Local institutions account for the remaining 40%-plus of trading in the market.