This article first appeared in The Edge Financial Daily, on March 15, 2019.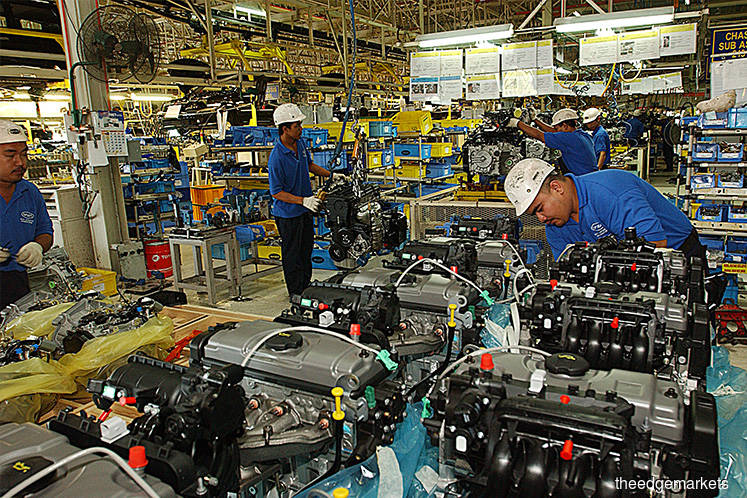 KUALA LUMPUR: Malaysia's manufacturing output in January, as measured by the Industrial Production Index (IPI), grew faster than expected in January, thanks to electricity and manufacturing output growth.
The IPI, which measures output from manufacturing, electricity generation and mining sectors, rose 3.2% year-on-year (y-o-y) in January, the Department of Statistics revealed yesterday. In comparison, a Bloomberg poll had forecast a median 2.3% increase, while Reuters' had expected a 2.4% rise.
Nevertheless, January's pace of growth was slightly slower than December's y-o-y growth of 3.4%.
January's growth was supported by a 7.8% expansion in the electricity sub-index — its highest since July 2017, according to MIDF Research — and a 4.2% growth in manufacturing. But it was dragged by mining output, which contracted 0.9% during the month as a result of drop in global oil prices.
"The major sub-sectors which recorded an increase in January 2019 were non-metallic mineral products, basic metal and fabricated metal products (4.3%), petroleum, chemicals, rubber and plastic products (4%); and electrical and electronic equipment products (3.9%)," the department noted.
"The mining sector index recorded a decline of 0.9% in January 2019, as compared to the same period of the previous year. The decline was due to a decrease in the crude oil index (-2.2%). Meanwhile, the natural gas index increased by 0.3% y-o-y," it added.
January's IPI performance was in tandem with the modest pace of Malaysia's external trade growth in the month, said MIDF Research, with total exports up 3.1% y-o-y, while re-exports and domestic exports expanded at 0.4% and 3.9% y-o-y, respectively.
It forecasts IPI growth to average to 2.9% for 2019, with growth of between 3% and 4% in the first half of the year.
"Looking ahead, we view IPI performance to be in a good position in 1H19 (first half of 2019), due to progressive trade negotiations between the US and China, steady global demand particularly in the US and China, and [a] gradual pick-up in global commodity prices and currencies," MIDF said in a brief note yesterday.
On the local front, firm domestic demand and stable job market would support domestic-oriented industries, particularly consumer-based products, it added.
It also expects services and manufacturing sectors to continue to drive up Malaysia's economy, while the mining sector is predicted to recover modestly.
"Lower business cost partly due to moderating inflation and stable retail fuel prices will provide additional boost for industrial production growth, which is expected to hit 2.9% in 2019. Nevertheless, headwinds from global trade tension and supply disruption for commodities based sectors could pose downside risk to the estimate," it added.