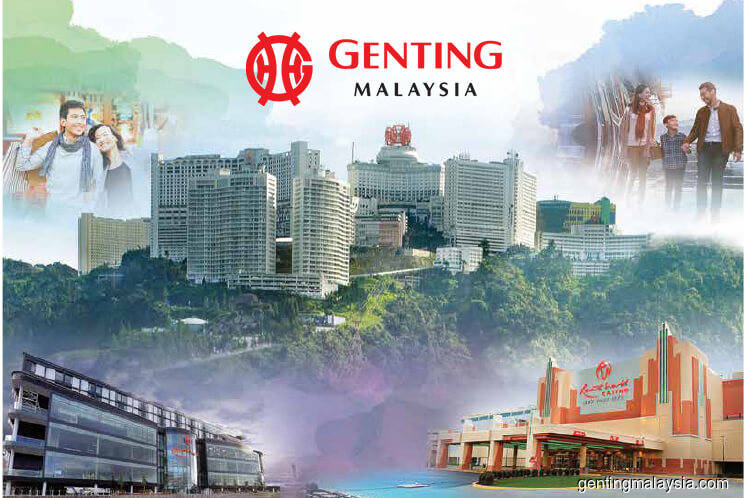 KUALA LUMPUR (April 8): Genting Malaysia Bhd (GENM) has no choice but to delay or cut its capital expenditure after the steep hike in gaming taxes imposed on the hilltop casino.
GENM's chairman Tan Sri Lim Kok Thay, who also wears the hat of chief executive officer, said in his chairman's statement in the 2018 annual report that the revision in casino duties and casino licence fee, as announced in the Malaysian Budget 2019 last November, will impact the group's earnings in financial year 2019 (FY19) onwards.
To fill the nation's coffers, the Finance Ministry (MoF) has raised casino duties to 35%, from 25%, on gross gaming income and gaming machine duties to 30%, from 20%, on gross collection. On top of that, the MoF has increased the annual casino licence fees by RM30 million to RM150 million, and machine dealer's licence fees to RM50,000 a year from RM10,000 a year.
It is believed that this is the first hike in casino duties in 20 years. The previous increment, from 22% to 25% currently, was in 1998 when the government needed the extra revenue boost for pump priming measures during the 1997/98 Asian Financial Crisis.
"The uncertainties surrounding the macroeconomic environment and the challenges arising from the new fiscal operating landscape will undoubtedly place pressure on the group's business moving forward.
"In view of the severity of the announced increases in casino duties, the group will continue reviewing and managing its cost structure. This includes reducing or delaying capital expenditures and the implementation of various cost rationalisation initiatives such as manpower optimisation," he added.
Lim said the group will continue to put emphasis on the execution of its marketing strategies, as well as growing key business segments through yield management systems and database analytics.
It will also complete the rollout of the Skytropolis Funland indoor theme park and Imaginatrix, while development plans and options for the outdoor theme park are being reviewed amid ongoing legal proceedings.
"The group remains committed to the outdoor theme park at Resorts World Genting (RWG) as a growth initiative in Malaysia.
"Despite the headwinds that we face, the group is determined to weather these challenges whilst delivering sustainable value to all our stakeholders through the various strategies that we have in place. In the past, the group has consistently met each challenge with equability and fortitude and we will continue to do so as we review our position and adapt to these exigent operating conditions," Lim said.
The tax hike sent GENM's share price to a seven-year low of RM2.72 last December, from RM5-level.
At 4.45pm, the stock is trading at RM3.20, up one sen, with 8.31 million shares changing hands, giving the group market capitalisation of RM18.09 billion.