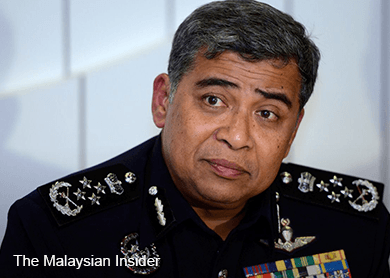 KUALA LUMPUR (Feb 15): The police have yet to make its proposal to increase compound fines for traffic offenders official, Inspector-General of Police Tan Sri Khalid Abu Bakar said.
He said he has not brought up the proposal officially with the federal government.
"I raised it to get feedback from the people. I have not taken it up with the government officially, but it will be done soon.
"The last time we reviewed the rate for fines was in 1987. We need to consider stiffer fines as a deterrent to encourage road users to change their attitude...we have to hurt their pockets," he told reporters today in Penang.
Khalid recently announced that police were considering increasing compound fines in view of rising numbers of road accidents and fatalities, especially during festive seasons.
The proposal was met with criticism, even from Transport Minister Datuk Seri Liow Tiong Lai, who reportedly said the Kejara demerit point system and the Automatic Enforcement System (AES) would be more effective to educate road users than higher fines.
The enforcement of both systems involve suspending the licences of errant motorists if they continue to violate road regulations.
Commenting on this, Khalid urged the ministry to implement the Kejara system immediately.
"It is useless to have it if we don't put it to use. It is time for us to enforce it to deal with stubborn road users," he said.
Khalid also said the police intended to carry out stern enforcement, as urged by Malaysian Institute of Road Safety (Miros) chairman Tan Sri Lee Lam Thye.
He said the police would ensure those who have been fined will pay up, and advised those with arrest warrants to report to the nearest police station.
"Don't wait for police officers to show up at your homes," he added.
Asked if higher fines could lead to corruption, if there were road users who preferred to avoid being fined, Khalid said all measures would be taken to make sure that will not happen.
Earlier, he witnessed the handing over of duties by outgoing Penang police chief Datuk Seri Abdul Rahim Hanafi to his predecessor Datuk Abdul Ghafar Rajab. Rahim has been appointed Perak police chief.
Khalid said he had earlier spoken to both men about their priorities.
"They are very senior officers, who know their responsibilities," he said.