This article first appeared in The Edge Financial Daily, on September 6, 2018.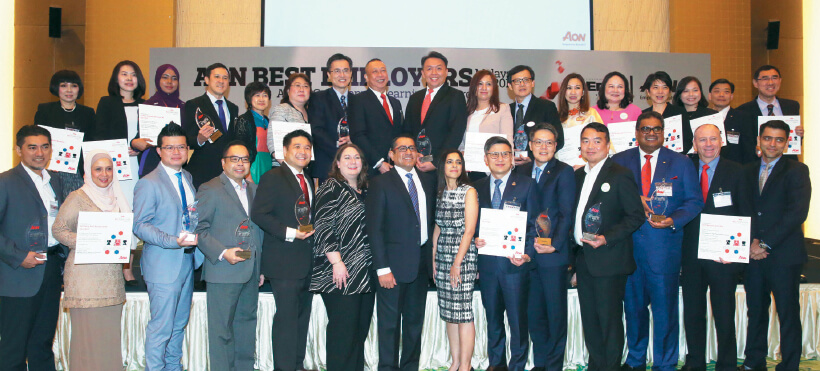 Kohn and Prashant (front row, sixth and seventh from left) and representatives of winning employers after the award presentation ceremony in Kuala Lumpur. Photo by Sam Fong
KUALA LUMPUR: A 5% increase in employee engagement is linked to a 3% increase in revenue growth in the subsequent year, according to a study by Aon plc.
In order to achieve this, top corporate executives must set an example for the employees as an engaged leader in order to improve overall business performance, said the global professional services firm.
"If the leaders are not engaged, then the rest of the employees are not going to be engaged. If they are not passionate and excited and going above and beyond what is required of them, then why would anyone who works for them do that?" said Aon's senior partner and chief commercial officer for Asia Pacific, Middle East and Africa, Mollie D Kohn.
Kohn was speaking at a press conference at Aon's Best Employers in Malaysia 2018 event yesterday, where 12 organisations were picked as the best employers in this country, up from eight organisations in 2017.
In its 18th edition this year, DHL Express (M) Sdn Bhd emerged as the Best of the Best Employers in Malaysia.
The other best employers, in no particular order, are: Agilent Technologies LDA Malaysia Sdn Bhd, American Express (M) Sdn Bhd, Eco World Development Group Bhd, Federal Express Services (M) Sdn Bhd, Gerbang Alaf Restaurants Sdn Bhd, Hartalega Holdings Bhd, S P Setia Bhd, SkyWorld Development Sdn Bhd, Sunway Building Materials Group, Sunway Hotel (Georgetown) Penang and Sunway IT Shared Services Centre.
DHL Express Asia Pacific was also recognised as Aon Best Employer 2018 under the regional Asia-Pacific programme, after being named Aon Best Employer in India and Singapore earlier this year.
Aon also awarded special recognition for commitment to engagement to Malaysia Airports Holdings Bhd, and another special recognition for commitment to high performance culture to SAP Malaysia Sdn Bhd.
Meanwhile, Marriott International Malaysia was named Best Employer 2018 in the global programme.
Aon's managing director for Malaysia and the Philippines, Prashant Chadha, said organisations on the Aon Best Employers list have consistently outperform the market across four critical areas of talent management, namely high employee engagement, effective leadership, compelling employer brand, and high performance culture.
"Changes in the economic and political landscape of the country have created additional complexity, requiring businesses to be agile and to focus on reduced time-to-market. Best Employers harness these dynamic times by focusing on people practices that fuel collaboration, regular reflection, and rapid course correction," he said.
It was noted that Aon Best Employers achieved an engagement score of 87%, compared to a market average of 63%.
Although half of the Best Employers experienced significant changes such as mergers and acquisitions, new leadership, and a change in strategy, they increased revenues by an average of 15% and profits by an average of 7.8% compared to the market average of 3.88% and 1.08% respectively.
The awards given out yesterday were based on the findings of a survey done by Aon in the Asia-Pacific and the Middle East on 460 organisations, involving 730,000 employees.
The study leverages on Aon's professional 3-tier assessment tools and includes participants from a variety of industries, including finance, food and beverages, hospitality, and pharmaceutical.