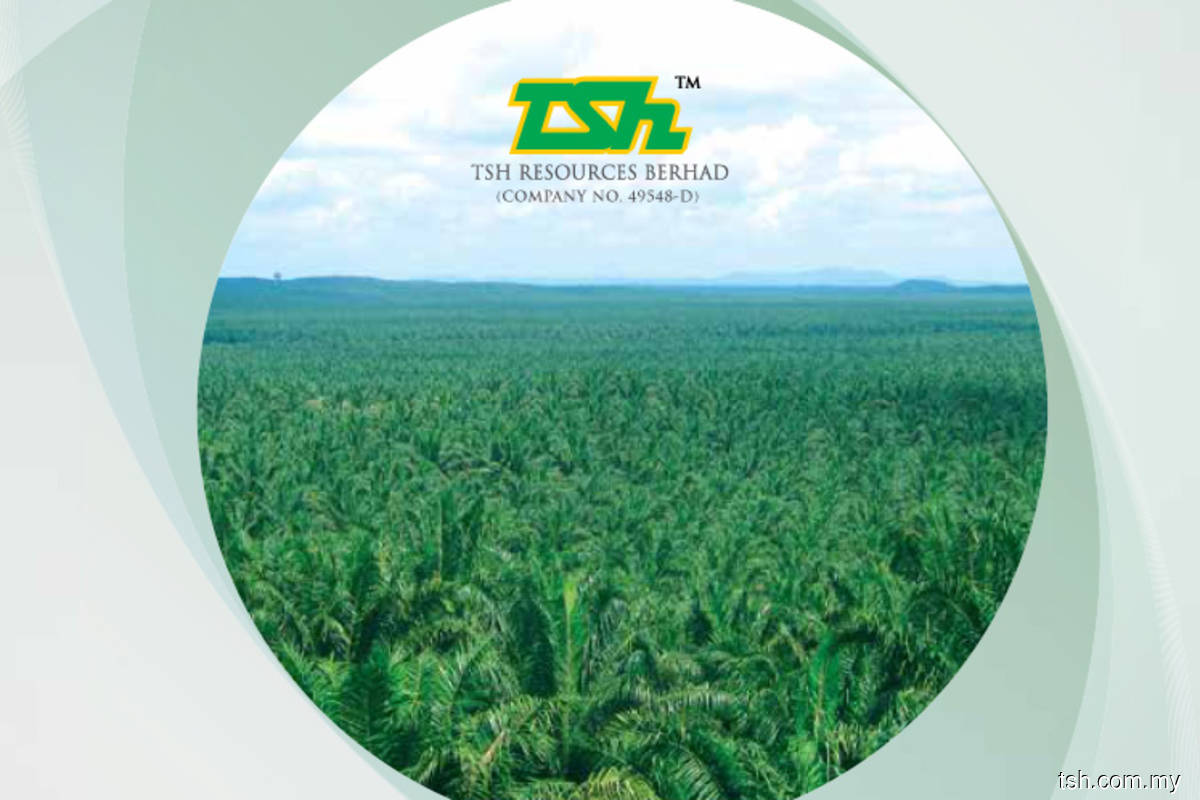 KUALA LUMPUR (Aug 22): TSH Resources Bhd's net profit for the second quarter ended June 30, 2022 (2QFY22) rose 44.37% to RM57.34 million from RM39.72 million in the same period last year, as its palm product segment benefited from higher average selling prices of crude palm oil (CPO) and palm kernel (PK). 
This was despite the segment being impacted by the increase in Indonesia's export levy and duty on CPO, as well as lower fresh fruit bunch (FFB) production, mainly due to ongoing replanting and wet weather conditions earlier this year.
Earnings per share was up 4.15 sen from 2.88 sen previously, the oil palm planter's bourse filing on Monday (Aug 22) showed. 
Quarterly revenue grew 38.06% to RM424.41 million — its highest to date — from RM307.41 million in the same period a year ago, thanks to higher revenue contribution from the group's palm products segment.
For the first six month of the financial year, TSH's net profit surged 154.23% to RM153.81 million, from RM60.5 million a year ago.
Meanwhile, cumulative six months' revenue increased 38.13% to RM761.76 million, from RM551.49 million. 
TSH noted that CPO prices had fallen sharply since May this year, following Indonesia's decision to remove the ban on palm oil export, as well as market concerns over rising palm oil stockpiles. 
However, this appears to have stabilised in recent times and is currently hovering at around RM4,000+ per metric tonne.
"It is anticipated that the CPO price will remain supported at current levels, on the back of supply concerns arising from the prolonged Russia-Ukraine conflict and softer production outlook for soybean due to the return of La Nina in late 2022 and early 2023," said TSH.
Looking ahead, TSH remains optimistic on the long-term prospects of the palm oil industry. 
This is given restrained hectarage growth in oil palm planting over the last few years due to Roundtable on Sustainable Palm Oil (RSPO) regulations, and the Indonesian government's moratorium on deforestation will have an impact over the global palm oil supply. 
"Global population and per capita income growth, as well as the many health qualities of palm oil are expected to drive greater demand for palm products." added TSH.
TSH's share price settled down three sen or 2.68% at RM1.09 on Monday, giving the counter a market capitalisation of RM1.51 billion.