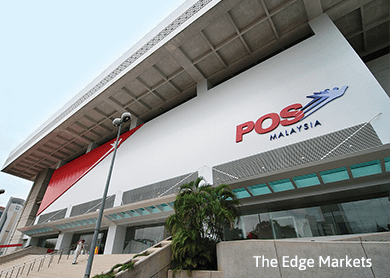 Pos Malaysia Bhd
(June 5, RM4.49)
Maintain sell with unchanged target price of RM4.30: Pos Malaysia's financial year 2015 (FY15) earnings were mainly affected by higher-cost structures as the company expands its operations and product offerings. Its staff numbers have increased by an additional headcount of 1,000 to 18,500.
Transportation costs also increased on the back of increased transshipment business and improved service coverages.
Nevertheless, management guided for continuous cost-cutting measures such as process automations, the implementation of better information technology systems, improvements in processes and review of resources and staff.
Direct mail volume remained low due to low market acceptance. Management remained positive on the potential of the new initiative to counter the drop in conventional mail. So far, management has not seen any material impact on mail volumes from the goods and services tax (GST) as the GST for conventional mail is zero-rated for the first year with no changes for courier services from the change of existing 6% service charges to 6% GST.
Revenue from the expiry of postal orders was RM1.3 million in the fourth quarter and RM27.4 million in FY15.
Management expects the contribution to be relatively stable at RM1 million a quarter going forward. It reiterated its commitment in the implementation of the five-year transformation plan.
Hence, there is no change in capital expenditure guidance of RM100 million to RM150 million per annum. — Hong Leong Investment Bank Bhd, June 5.
This article first appeared in The Edge Financial Daily, on June 8, 2015.