This article first appeared in The Edge Financial Daily, on May 17, 2019.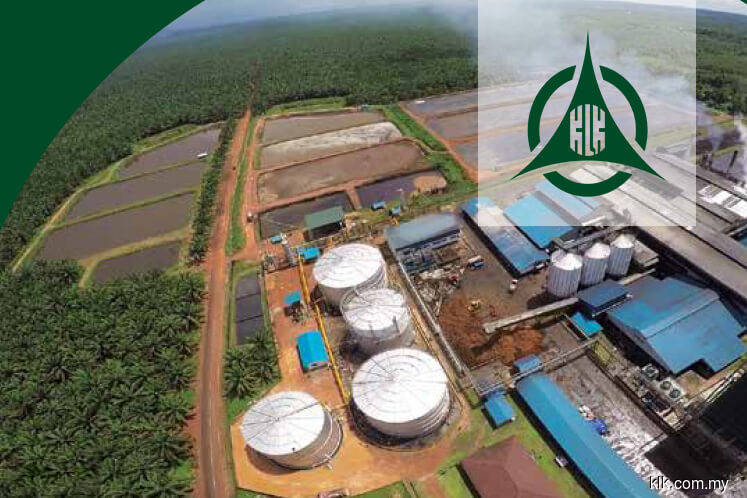 Kuala Lumpur Kepong Bhd
(May 16, RM24.12)
Maintain hold with an unchanged target price (TP) of RM24.54: Kuala Lumpur Kepong Bhd (KLK) posted a 40% year-on-year (y-o-y) decline in first half of financial year 2019 (1HFY19) core net profit (CNP) due mainly to weaker plantation and manufacturing contributions. Its 1HFY19 CNP was broadly in line with our forecast (46% of our full-year projection) but below Bloomberg's consensus (37% of the full-year forecast). We project KLK to post a higher CNP for 2HFY19 due to expectations of higher fresh fruit bunch (FFB) output. As expected, KLK declared a flat interim dividend of 15 sen.
We excluded the foreign exchange (forex) gain of RM35.4 million in 1HFY19 (1HFY18: a forex loss of RM221.8 million), RM27.8 million in provision for inventory and receivables write-offs (1HFY18: RM19.8 million) and a net surplus of RM49 million on government acquisition and sale of its land (1HFY18: RM24.7 million) to arrive at KLK's 1HFY19 CNP of RM337 million (1HFY18: RM558 million).
Plantation earnings before interest and tax (Ebit) fell 57% y-o-y in 1HFY19, due mainly to lower average selling prices of crude palm oil  (CPO) (-23.4% y-o-y to RM1,906 per tonne) and palm kernel (-41% y-o-y to RM1,340 per tonne), which more than offset the higher FFB output (+5.6% y-o-y) and positive contributions from processing and trading operations. On a quarter-on-quarter basis, its second quarter of FY19 plantation Ebit fell 10%, due partly to a 10.6% drop in FFB output and negative contributions from processing and trading operations due to an unrealised loss of RM15.3 millon from fair value changes on outstanding derivative contracts.
The manufacturing segment posted a 23% y-o-y decline in 1HFY19 pre-tax profit due to weaker contributions from its Europe operations and oleo division (-26.6% y-o-y to RM186 million). However, this was partially offset by a RM5.8 million profit from other manufacturing units. Better contributions from property and farming profit also helped cushion the decline in 1HFY19 earnings due to lower CPO prices. Overall, KLK guided for lower earnings for FY19 following the unveiling of its 1HFY19 results.
Its 1HFY19 FFB output rose 6% y-o-y, in line with KLK's guidance of a 5% to 6% growth for FY19. It achieved an average 1HFY19 CPO price of RM1,906 a tonne, below the Malayian Palm Oil Board's average CPO price of RM1,958 a tonne due to weaker prices achieved by its Indonesian estates. We are keeping to our sum of parts-based TP of RM24.54 and "hold" call as we expect KLK's share price to be supported by its attractive land bank. Key upside and downside risks to our call include higher or lower CPO prices and FFB yields. — CGSCIMB Research, May 15