This article first appeared in The Edge Malaysia Weekly, on February 10, 2020 - February 16, 2020.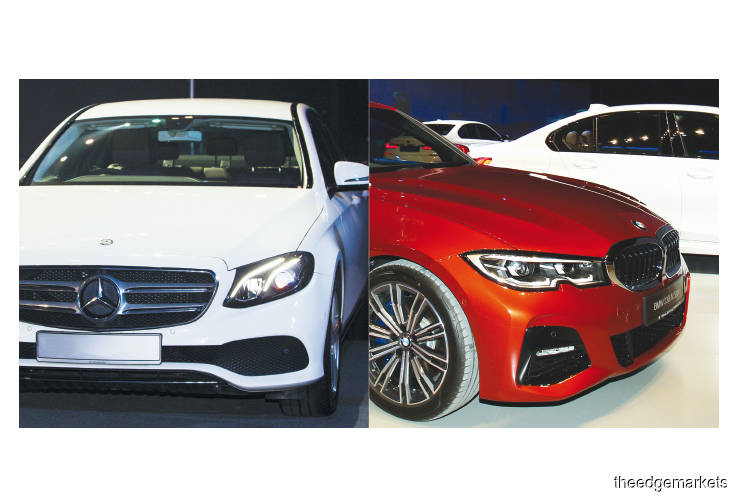 Sales volumes of Mercedes-Benz and BMW have tumbled 21.74% and 16.8% respectively over the past year
Photo by The Edge
SEVERAL high-end car dealers are scouting around for yard space to store excess vehicles, sources familiar with the matter tell The Edge. This is because sales have fallen significantly short of targets, owing to the soft economic climate.
An employee of a company dealing in high-end cars confirms the surplus stock and his employer's search for yard space in Alam Megah and Klang. Talks are also ongoing with a logistics company on the use of its yard to park vehicles.
"It (high-end car companies seeking yard space) has been going on for about six months now and adds to the difficulties and costs. It is not something we can afford at this juncture," the employee says.
Worst hit are the Mercedes-Benz and BMW dealers as their sales volumes are high. Companies dealing in the two high-end cars include Sime Darby Bhd, Ingress Corp Bhd and Quill Automobiles Sdn Bhd (dealers of BMW), and Hap Seng Consolidated Bhd and Cycle & Carriage Bintang Bhd (C&C) (dealers of Mercedes-Benz).
The Malaysian Automotive Association's website reveals that last year, 10,535 Mercedes-Benz vehicles and 9,300 BMW cars were sold, translating into a market share of 1.7% and 1.5% respectively.
In 2018, a total of 13,462 Mercedes-Benzes and 11,178 BMWs were sold, translating into a 2.2% and 2% market share respectively. Sales volumes have tumbled 21.74% and 16.8% respectively over the past year.
"It's a substantial dip, hence the need for yard space," says a former high-ranking automotive industry executive.
Total industry volume for 2019 was 604,287 units, up from 598,598 in 2018. However, the increase was largely boosted by Proton Holdings Bhd, which has seen a resurgence with China's Zhejiang Geely Holding Group at the helm.
Principals are doing fine, but dealers are not
While the principals of Mercedes-Benz and BMW seem fine financially, the dealers are clearly hit. For its financial year ended December 2018, Mercedes-Benz Malaysia Sdn Bhd, a wholly-owned unit of Mercedes-Benz AG, registered an after-tax profit of RM319.48 million on revenue of RM3.49 billion.
During the year in review, Mercedes-Benz Malaysia had total assets of RM1.89 billion, total liabilities of RM1.38 billion and retained earnings of RM368.75 million. Interestingly, Mercedes-Benz Malaysia paid out RM571.23 million in dividends in FY2018.
BMW Malaysia, meanwhile, chalked up an after-tax profit of RM289.69 million from RM3.43 billion in sales, and paid out RM247.4 million in dividends to its shareholders. BMW Malaysia is 51% owned by BMW in Germany and 49% by Sime Darby. As at end-2018, BMW Malaysia had retained earnings of RM306.89 million.
Sime Darby's automotive division is not a good reflection of what is going on as, in addition to being a dealer, it also has a 49% stake in distributor BMW Malaysia. Also, Sime Darby and DRB-Hicom Bhd undertake assembly for principals, which brings them additional revenue.
For C&C, the going has been tough. For its nine months ended September 2019, the company suffered a net loss of RM16.95 million from RM862.54 million in revenue. For the previous corresponding period, it posted a net profit of RM17.82 million on revenue of RM1.21 billion.
C&C says vehicle sales were 33% lower due to a decline in the premium luxury segment and retail margins were affected by intensifying competition and model mix changes.
Its chairman Eric Chan says, "The group experienced exceptionally difficult trading conditions on the retail sales front, which reduced both volumes and margins, [but they were] partly mitigated by the strong performance of the after-sales business. The outlook for the rest of the year remains very challenging, with sluggish consumer demand and continued pressure on margins."
C&C adds that its Mercedes-Benz operations recorded a net loss of RM28.2 million last year, compared with a net profit of RM6.6 million in 2018, primarily due to lower unit sales and margins in the period, while the same period in 2018 benefited from insurance compensation of RM9.8 million for damage suffered as a result of floods in Penang and higher sales due to the zero rate of Goods and Services Tax from June to August 2018.
It is worth noting that following a business review, C&C decided not to proceed with the construction of a sales, service and spare parts facility on a parcel of land in Sungai Besi.
Also faring poorly is Hap Seng Consolidated, whose financials for the nine months ended September 2019 indicate that its automotive arm suffered an operating loss of RM14.11 million from RM1.07 billion in sales.
In notes accompanying its financials, it says the business environment for the premium passenger vehicle and commercial vehicle segments is expected to "remain competitive and challenging" with cautious consumer spending.
Ingress suffered an after-tax loss of RM28.72 million from RM1.2 billion in turnover for its financial year ended January 2019 — its first loss since 2010. As at the date, Ingress had total assets of RM1 billion, total liabilities of RM502.99 million and retained earnings of RM187.31 million.
Quill Automobiles, meanwhile, posted a meagre after-tax profit of RM692,335 from RM365.04 million in sales for its financial year ended December 2018, and had accumulated losses of RM7.72 million.
In the past, it was not uncommon for luxury vehicle sales to hold steady or even increase despite a gloomy economic climate. But this not the case any more.
Things could get worse when the Excise (Determination of Value of Locally Manufactured Goods for the Purpose of Levying Excise Duty) Regulations 2019 kick in.
Although it was supposed to be implemented early this year, the Ministry of Finance has said the new methodology in calculating the open-market value of a car will take effect at the beginning of next year instead.
The move is expected to lead to more expensive cars, prompting questions as to how luxury car companies and their principals are likely to perform then.