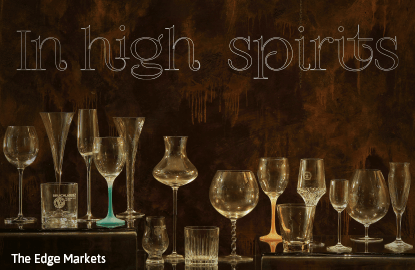 This article first appeared in haven, The Edge Malaysia Weekly, on Issue #76 December 2015 + January 2016.
DECEMBER is upon us and it's time for gatherings with friends and loved ones over elaborate feasts and lush drinks. Part of a carefully curated home party involves selecting the wines and spirits for the evening and the appropriate drinkware to go with them. Celebrations are indeed made all the merrier with good wines and delicate champagnes, and not forgetting, smooth whiskies and rich cognacs. And the glasses and tumblers you serve them in don't have to be boring. So, here a showcase of the perfect pours and drinkware for your festive bar. 
Sanguine selections

From the Orange region of New South Wales, Australia comes the delicious Printhie MCC Chardonnay 2012 that has lovely fruit purity with very soft oak presence. The Tucumen Sauvignon Blanc 2014 hails from Mendoza, Argentina, and is a soft and mellow, aromatic white that's fresh and balanced.

 

Details: Jamie Oliver wine glass (four-piece set for RM83.90); LAV blue stem wine glass (three-piece set for RM59.90); and LAV coral stem wine glass (three-piece set for RM59.90); all from Living Quarters. The Printhie MCC Chardonnay 2012 (RM198) and Tucumen Sauvignon Blanc 2014 (RM83) are both exclusively available from Winetalk.com.my.

New World elegance

The St Hugo Cabernet Sauvignon 2012 is from the region of Coonawarra in Australia, and it boasts a silky supple palate, elegant fruit characteristics and long, fine tannins. 

 

Details: Royal Selangor whale decanter (RM1,378); Royal Selangor V&A Tracery red wine glass (RM413.40 for a pair); and Schott Zwiesel burgundy glass (RM168) from Jia
A class of its own
The luxurious Martell Cordon Bleu 300 Year Anniversary Limited Edition combines more than 100 eaux-de-vie resulting in an explosion of deliciously fruity, spiced notes. The Chivas Regal 12 Year Old is a refined blended whisky with herbs, honey and fruit leaping forth on the palate.  
Details: Schott Zwiesel cognac tulip glass (RM380) from Jia; Royal Selangor William Morris inspired decanter (RM689); RCR glass (RM316 for six-piece set) from Living Quarters; Royal Selangor Medallion ice bucket (RM720.80); and Union Victors tumbler (RM38) from Jia
Glitz & glamour
The Dom Pérignon Vintage 2006 features a limited edition iridescent green bottle and coffret designed by Björk and her long-time collaborator, video artist Chris Cunningham. The champagne boasts a generous aromatic ripeness, and is juicy and opulent. The special edition of the Hennessy X.O is a result of a collaboration with innovative designer Tom Dixon, who designed the gold faceted bottle that's a distinctive and harmonious study in light and materiality, shape and finish. The Moët & Chandon Brut Imperial's new festive bottle sports golden bubbles.
Details: Krosno champagne flute (RM159.90 for a pair) from Living Quarters; Schott Zwiesel cognac glass (RM320) from Jia; Royal Selangor Domaine champagne flute (RM424 for a pair); and Schott Zwiesel decanter (RM600, comes with two small glasses) from Jia 
Sheer luxury

Appropriately dubbed the King of Cognacs, the beautifully handcrafted Rémy Martin Louis XIII contains a unique blend of 1,200 of the house's rarest and oldest eaux-de-vie for an intensity of flavour that lingers long on the palate. Similarly, the much awarded Piper-Heidsieck Rare Millesime 2002 is a wine with depth — structured, full-bodied and bursting with fruit.

 

Details: Schott Zwiesel tulip champagne flute (RM24), Schott Zwiesel cocktail flute (RM320), and Schott Zwiesel liquor glass (RM65), all from Jia; and Louis XIII Pillet crystal glass by Christophe Pillet 

Wild card

The Ardbeg Uigeadail Ultimate is an Islay single malt whisky that's powerful yet balanced, with notes of smoke, leather, dried fruit and walnut oil. Also from Islay is the Bruichladdich Classic Laddie, an unpeated single malt whisky that's clean, fresh and lively with a harmony of oak and gentle warmth. 

 

Details: Union Victors tumbler (RM38) from Jia; Bruichladdich tasting glass by Glencain; and Bruichladdich iceberg crystal glass