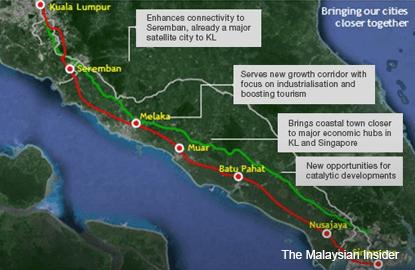 KUALA LUMPUR (Sept 2): Contracts for the multi-billion high speed rail between Malaysia and Singapore are expected to be awarded soonest by 2017. The project is also on track for completion by 2022.
"It is estimated [that]] works for the project should take about five years and if worked backwards, it should be out by 2017 (indicative timeframe)," said Land Public Transport Commission chief development officer Dr Prodyutt Dutt to reporters at the Rail Business Asia 2015 at KLCC today.
Prodyutt was replying to questions on the progress of the project that has yet to gain much traction, after the completion of the project was pushed further from 2020 to 2022.
There is a lot of preliminary work that needs to be done on both sides for the tender document preparation and that is currently in progress, he added.
He also explained that there is a need to consult with the Singapore government and the exact date on the awarding of the project will be jointly decided by both government's.
Prodyutt said the awarding of the project will be carried out on an open tender basis.
On the estimated costs for the project, he said until the tenders are done, SPAD will not be able to give a rough figure of the costs until the tenders are ready.
He added the costs project would be subjected to the value of the ringgit that may differ from today and when the project is awarded.
However he assured that as announced by the Prime Minister Datuk Seri Najib Razak, the project was still on track and is due for completion by 2022.
To recap, in 2013 both, Singapore and Malaysia agreed to build a high-speed train track by 2020, which would reduce the travel time on land between Kuala Lumpur and Singapore to just 90 minutes compared.
The construction of the high-speed rail link which is one of the entry point projects listed under the Economic Transformation Programme was originally expected to start in 2016, with the Cabinet approving the project and the establishment of MyHSR Corp Sdn Bhd — a Finance Ministry unit tasked with undertaking the project.
It was reported that seven stations have been identified: Kuala Lumpur, Putrajaya, Seremban, Ayer Keroh, Muar, Batu Pahat and Nusajaya.