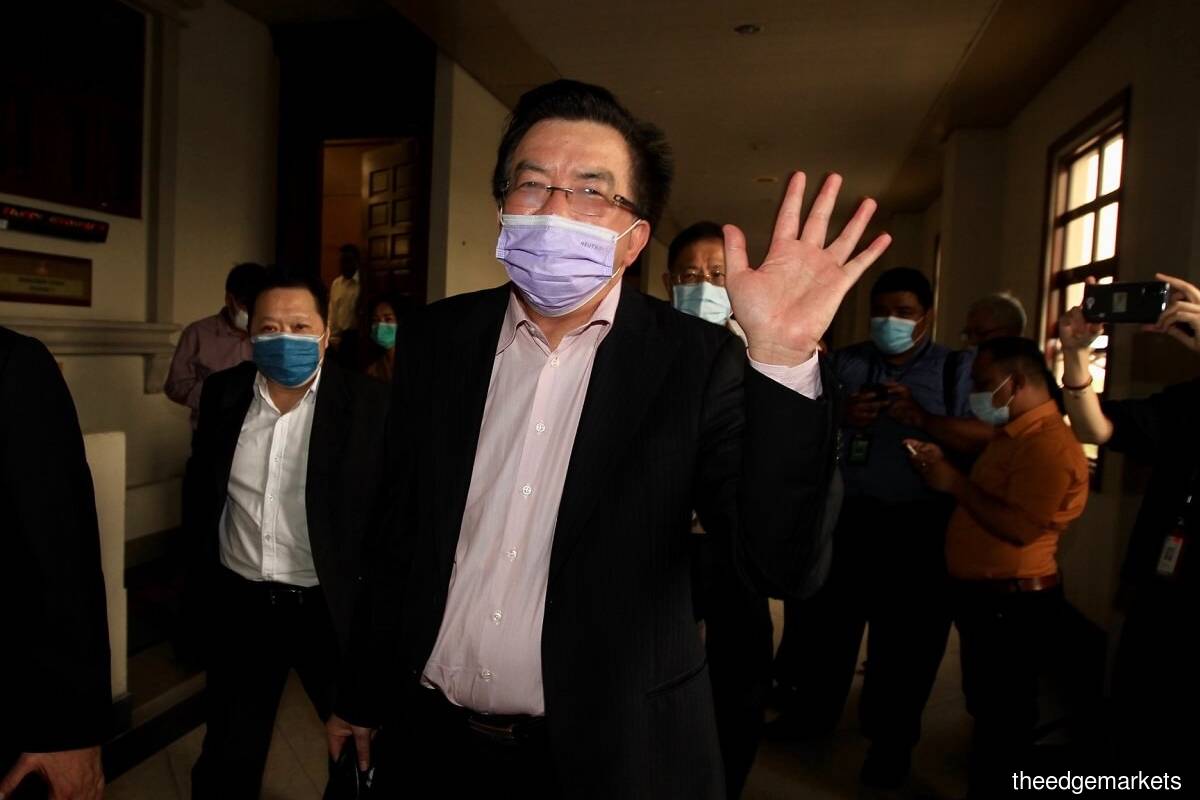 KUALA LUMPUR (Sept 29): The High Court today reversed the Sessions Court's decision three years ago in convicting former Supermax Corp Bhd managing director Datuk Seri Stanley Thai Kim Sim for insider trading in relation to APL Industries Bhd (APLI) shares.
Judicial Commissioner Datuk Azhar Abdul Hamid also reversed the conviction of former remisier Tiong Kiong Choon.
Azhar, in his decision, said he found the conviction "not safe" after hearing the submissions.
"Hence, the conviction and sentence are set aside," said the judicial commissioner.
Thai was sentenced to five years' jail on Nov 24, 2017 and fined RM5 million by the Sessions Court after he was found guilty of insider trading. Tiong, who was also sentenced to five years in jail, was fined RM10 million.
Insider trading offences, under Section 188 of the Capital Markets and Services Act 2007, carry a mandatory punishment of imprisonment not exceeding 10 years and a fine of not less than RM1 million.
Thai was charged with communicating non-public information between Oct 26 and 29, 2007 to Tiong. Tiong was convicted of two counts of disposing of a total of 6.21 million APLI shares while in possession of the same non-public information via accounts belonging to his mother-in-law and his mother.
At the time the offences were committed, Tiong was a licensed intraday trader with a stockbroking company.
Thai when met after the decision declined to comment on today's decision but said a statement would be issued later.
Thai was represented by counsel Shamsul Sulaiman while Tiong was represented by senior counsel Datuk Yusof Zainal Abiden and Datuk Chong Loong Men.
Azhar made the decision after hearing submissions from both sides for four hours where the focus was on the purported 11-minute phone call that Thai made to Tiong on Sept 26, 2007, which was a Friday, and Sept 29, 2007, which was the following Monday.
The prosecution, led by Securities Commission deputy public prosecutor (DPP) Mohd Hafiz Mohd Yusoff, said the conviction was safe as the purported call to Tiong led to the disposal of APLI shares owned by Thai's mother-in-law and mother, where Thai already knew that the company would be classified as Practice Note 17 (PN17).
This came after APLI reported a higher loss for the financial year ended June 30, 2007, as compared to the previously reported unaudited results.
APLI made announcements to Bursa Malaysia Securities Bhd about the audit adjustments and its classification as a PN17 company on Oct 31, 2007.
Yusof and Chong told the court how could the Sessions Court only relied on telephone records without any evidence of the phone being tapped or other information to convict Tiong of insider trading as the 10-minute duration by a senior remisier like him showed the conversation was long and could not have been about insider trading as such instructions could be made in two minutes.
"It is not that the prosecution brought in a witness testifying they heard the conversation between the two (Thai and Tiong). The conversation may not be centred on APLI," Yusof said.
"Why entice to sell in opposition (shares going down) compared to his favour? It is against his (Thai's) interests," added Chong.
For these reasons, Yusof submitted that the conviction of Tiong was not safe and the court should set aside the conviction and sentence.
Shamsul concurred by saying there is no reason for his client to sell the shares belonging to his mother-in-law and mother, in large volumes, resulting in losses. He argued that it was wrong for the lower court to order his client to enter into his defence in the first place when there was insufficient evidence that the purported calls contained insider information.
"There is no wire-tapping, no text messages to suggest so. The prosecution relied on circumstantial evidence and it was misleading to pinpoint the telephone conversation as a source of insider trading. Why the need for Thai to call the remisier twice i.e. on Sept 26 and again on Sept 29?" he said.
Shamsul said the telephone calls were relied heavily in their entirety by the prosecution, but they cannot prove that there was insider information leaked.
Hafiz, in his submissions, said immediately after the calls were made the APLI shares owned by Thai's mother-in-law and mother were traded.
"Evidence shows that the information was communicated by the first appellant (Thai) to the second appellant. Two minutes after the call there was a sale in (Thai's) mother-in-law account and this was later followed by his own mother's account.
"After the phone call happened, it led to fully disposing of all the shares and large disposal of shares resulted in the share market to crash," said the DPP.
Hafiz further submitted that APLI was not performing well into the early 2000s and the circumstances led to a finding of fact by the Sessions judge to secure a conviction.
Read also:
Supermax pares loss after High Court overturns ex-MD Stanley Thai's guilty verdict
S Kanagaraju & Tan Choe Choe