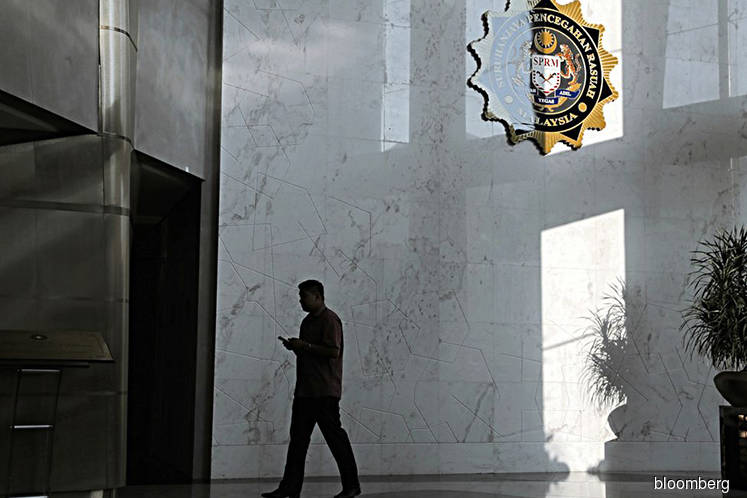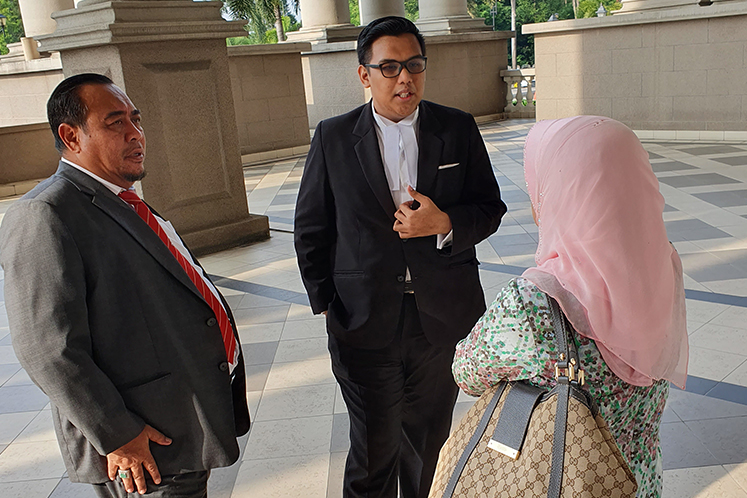 Yayasan Rahah's representative Ibrahim Awang Ismail (left) and his lawyer Amin Othman (centre) Photo by Hafiz Yatim/The Edge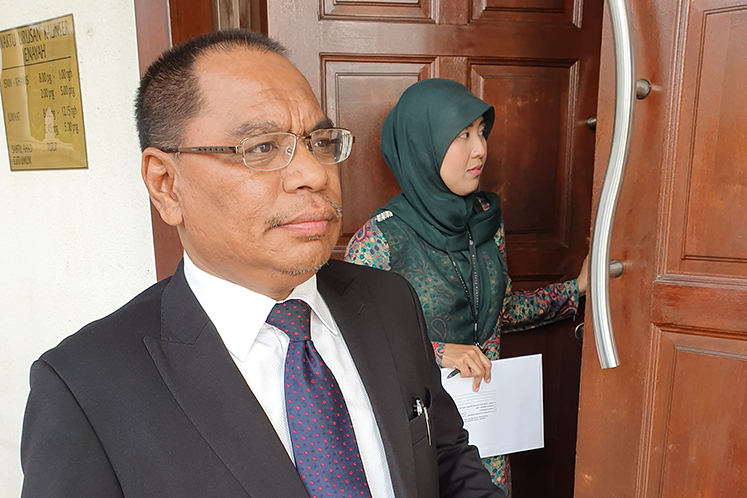 Naza Quest's lawyer, Md Yunos Shariff Photo by Hafiz Yatim/The Edge
KUALA LUMPUR (July 2): The High Court here has fixed three hearing dates this month in the Malaysian Anti-Corruption Commission's (MACC) forfeiture proceedings against nine entities.
The dates are for the court to gazette the forfeiture notice and to fix the filing of affidavits should there be a challenge to the suit.
The dates were fixed by deputy registrar Mahyudin Mohd Som in his chambers, with proceedings to take place before Justice Mohd Nazlan Mohd Ghazali — who notably is also presiding over the ongoing SRC International Sdn Bhd case — on July 12, 19 and 26.
Deputy Public Prosecutor Nik Haslinie Hashim appeared for the prosecution while different counsels appeared for the various parties.
Nik Haslinie told reporters that three parties, namely the Umno Kedah liaison committee, Sarawak United Peoples' Party (SUPP) and Maran MP Datuk Seri Ismail Muttalib, who were summoned to court did not make an appearance today.
Ismail had written to the court to say he would not attend today, she added.
The proceedings on July 12 will involve Umno Kedah liaison committee, Umno Pekan division, Yayasan Rahah and Ibrahim Awang Ismail, Maran MP Ismail, SUPP and Habib Jewels Sdn Bhd.
Meanwhile, the proceedings on July 19 will involve Barisan Nasional Johor Bahru division, and July 26 will see Naza Quest Auto Sdn Bhd in court.
Naza Quest is represented by lawyer Md Yunos Sharif, while Amin Othman appears for Yayasan Rahah and Ibrahim, and Amalin Mohd Zahid appears for Umno Pekan.
The Edge had reported on June 21, that the MACC is seeking RM100,000 each from Ibrahim and Ismail, RM700,000 from Umno Pekan, SUPP (RM188,138.26), Habib Jewels (RM90,485.66), BN Johor Bahru (RM957,385.65), Yayasan Rahah (RM833,224.09), Kedah Umno (RM1.054 million) and Naza Quest (RM269,662).
All in all, the MACC is seeking RM270 million that had been siphoned off from 1Malaysia Development Bhd, using former premier Datuk Seri Najib Razak's AmBank account.
It was reported on June 21 that the MACC had filed forfeiture action against 41 entities, with the first batch of respondents being Umno, Sabah Umno liaison committee, Wanita MCA, the late Paya Besar MP Datuk Abdul Manan Ismail, former domestic trade and consumer affairs minister Datuk Hasan Malek, Binsabi Sdn Bhd, and Perano Sdn Bhd.
High Court judge Mohamed Zaini Mazlan had fixed Aug 25 to gazette the forfeiture notice.
The affected parties who want to challenge the forfeiture can file affidavits to do so.
Third party entities with an interest in the assets to be forfeited from the seven entities listed above may lay their claims by Aug 25.
Related stories:
Forfeiture order against 7 alleged 1MDB funds recipients to be gazetted on Aug 25
MACC's 1MDB forfeiture suit: Seven respondents to appear in court today
How much money MACC is claiming from each of the 41 respondents in its civil forfeiture suit