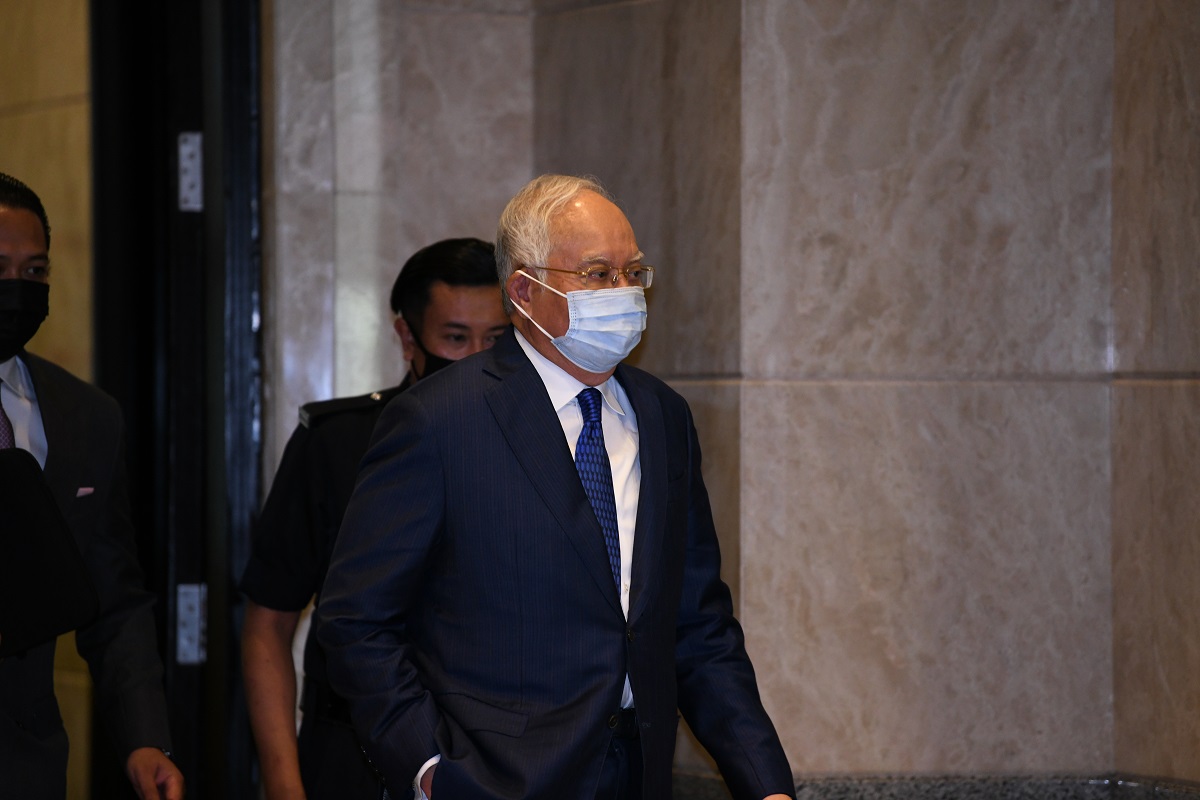 KUALA LUMPUR (Jan 22): The High Court has directed former prime minister Datuk Seri Najib Razak and his stepson Riza Shahriz Abdul Aziz to file an affidavit in reply by Feb 11, to the prosecution's application for forfeiture items linked to 1Malaysia Development Bhd (1MDB).
This was confirmed by the High Court deputy registrar Catherine Nicholas, when contacted by theedgemarkets.com today.
"Court received an additional affidavit from the prosecutors (applicant). Najib and Riza, who are the first and third respondents, have been asked to file their affidavit in reply by Feb 11, and hearings [for prosecution's application] are maintained on March 26," she said.
The High Court has set March 26, 2021 to hear the prosecution's application to forfeit items in a raid on Najib's residences in 2018, after no interested third parties had come forward to claim the forfeiture items.
The High Court had allowed interested third parties to claim the property, comprising hundreds of handbags of various brands, cash, watches and 27 cars, that were seized from Najib, his wife Datin Seri Rosmah Mansor and 16 others.
The 16 others named in the prosecution's notice of motion are: Najib and Rosmah's three children — namely Nor Ashman Razak Mohd Najib, Nooryana Najwa Mohd Najib and Riza (Najib's stepson) — Mohd Kyizzad Mesran, Senijauhar Sdn Bhd, Aiman Ruslan, Yayasan Rakyat 1Malaysia, Yayasan Semesta, Yayasan Mustika Kasih, Rembulan Kembara Sdn Bhd, Goh Gaik Ewe (Low Taek Jho's mother), Roger Ng Chong Hwa (former Goldman Sachs officer) and wife Lim Hwee Bin, Kee Kok Thiam, Tan Vern Tact and Geh Choh Hun.
On Dec 14, 2020, Justice Mohamed Zaini Mazlan was informed by the prosecution that no third parties had come forward.
This made Justice Zaini set the date on March 26 to hear the prosecution's forfeiture application, as he directed them to file the documents by Jan 15, while Najib and others have been given until February to provide a reply.
The government is seeking to recover 263 pieces of branded handbags, 40 pieces of branded watches, 27 pairs of branded shoes, cash in various denominations including some RM725,000, 26 Nissan Urvan vehicles, and a Nissan X-Trail.
Read also: 
Court sets March 26 to hear govt's forfeiture bid as no third parties come forward to claim Najib and Rosmah's seized items