This article first appeared in The Edge Malaysia Weekly, on June 4, 2018 - June 10, 2018.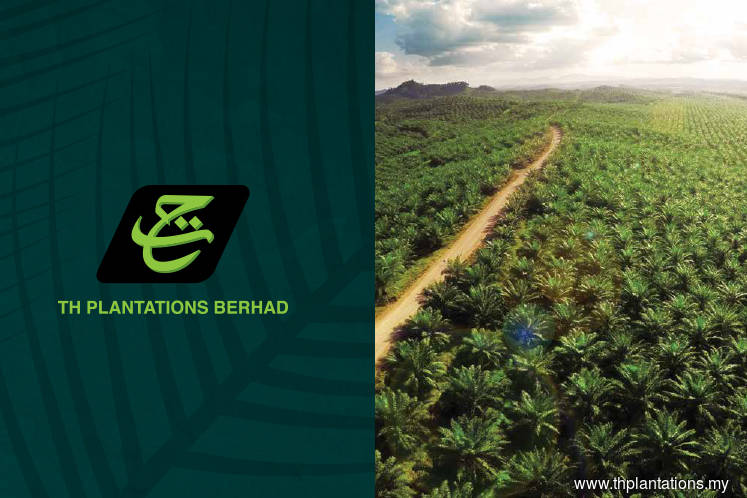 AS planters grappled with low output and weak crude palm oil (CPO) prices in the last quarter, TH Plantations Bhd's margins were hit by high debt levels as well.
Its net profit for the quarter ended March 31 (1QFY2018) fell 68.31% year on year to RM4.1 million as revenue slipped nearly 27% to RM121.24 million.
Note that the bottom-line figure includes RM3.88 million booked as other income plus RM3.52 million recorded as fair value gain on biological assets. Adjusted for the latter, the company's profit falls further to about RM580,000.
Its borrowings are proving to be a major drag on TH Plantations' margins. As at March 31, its gearing ratio stood at 0.7 times.
The strain of servicing its debt nearly wiped out the company's operating cash flow in 1QFY2018 amid lower revenue, its cash flow statement shows.
Long-term borrowings constitute the bulk of the company's debt at RM1.19 billion. It has another RM45.24 million in short-term borrowings.
Despite a 14% growth in the planter's output of fresh fruit bunches (FFB) — its fifth consecutive quarter of year-on-year increase — poor CPO prices led to operating cash flow falling 80.84% year on year to RM10.65 million in 1QFY2018. At the same time, it paid RM14.11 million in finance costs for the quarter.
Capital expenditure and loan repayments, among others, saw TH Plantations get through RM34.54 million cash in 1QFY2018. As at March 31, its cash and cash equivalents stood at RM64.7 million.
During the quarter, TH Plantations clocked in a CPO average selling price (ASP) of RM2,355 per tonne, according to Maybank Research, versus an all-in production cost of RM2,248 per tonne.
With a high cost base, the company's margins could remain under pressure in the near term as CPO prices have weakened further to date.
Malaysian Palm Oil Board data shows that CPO prices averaged RM2,418 per tonne in April, the lowest monthly average so far this year.
While the data for May average prices is not final yet, back-of-the-envelope calculations show that it could dip below the April average.
When contacted, a company official points out that operationally, TH Plantations is doing fine as FFB production is rising.
"But CPO prices have been quite weak recently and that's tough for plantation companies, especially for us as we are a pure upstream player," says the executive who declined to be identified.
The 14% uptick in FFB production during the quarter is encouraging as 1Q is historically the company's weakest quarter in respect of output.
Further output growth could benefit TH Plantations if CPO prices improve going forward. Leading vegetable oils analyst Dorab Mistry reportedly forecast CPO prices to range between RM2,500 and RM2,700 this year.
However, production growth is a double-edged sword as any ASP deterioration will hurt TH Plantations' bottom line.
Degearing hitches
Weaker CPO prices are hitting the company's margins amid a debt rationalisation exercise that involves the disposal of non-core assets in order to raise cash and repay debt.
In an interview a year ago, managing director Datuk Seri Zainal Azwar Zainal Aminuddin had told The Edge that the company had earmarked four non-core assets to be sold by 2019.
At the time, the target was to reduce gearing to 0.5 times from 0.72 times then by selling two of the non-core assets by end-2017. A back-of-the-envelope calculation shows that to achieve the targeted reduction, borrowings would have to be slashed by RM400 million.
However, the plan seems to have run into trouble as the company did not announce any asset sales in 2017, likely due to the difficulty in finding ready buyers for vast tracts of plantation land.
TH Plantations' last asset disposal was in 2016 when it sold THP Gemas Sdn Bhd for a one-off gain of RM112.58 million.
In theory, TH Plantations could turn to its shareholders for cash to pare down its borrowings, for example via a rights issue. However, the hurdle to such a proposal is tight liquidity as pilgrims fund Lembaga Tabung Haji owns 73.8% of the planter while the Employees Provident Fund holds about 6.9%.
In December 2017, TH Plantations' board gave its approval to sell the company's investment in Ladang Jati Keningau Sdn Bhd, which carries a net book value of RM30.08 million based on its latest annual report. The lease on the 1,550ha estate expires in 2078.
"Efforts to sell the asset have commenced, and a sale is expected to be completed within 12 months of the approval date," TH Plantations says in its 1QFY2018 release.
The company owns 101,000ha across Malaysia and Kalimantan, Indonesia, of which 60,350ha are planted with oil palm.
It also has six palm oil mills with a combined capacity of 240 tonnes per hour.
Last Friday, the stock closed at 64 sen, down 40.7% from its one-year high of RM1.08.
On May 31, Maybank Research cut its target price for the stock from RM1.22 to 89 sen while UOB Kay Hian trimmed its target price from 77 sen to 60 sen after lowering its price-earnings ratio assumption for 2019 from 18 times to 15 times. Both research houses retained their "hold" recommendation.
"We assume a discount as we continue to see earnings risk due to high operating costs," says UOB Kay Hian in its report.
Save by subscribing to us for your print and/or digital copy.
P/S: The Edge is also available on Apple's AppStore and Androids' Google Play.