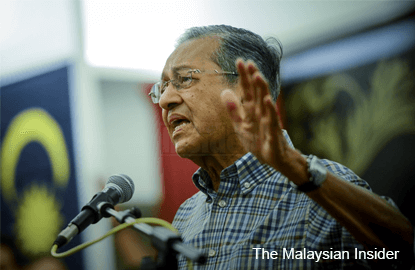 KUALA LUMPUR: As Putrajaya hunts down those behind information leaks about an ongoing probe into 1Malaysia Development Bhd (1MDB) and allegations of fund transfers to the prime minister's accounts, Tun Dr Mahathir Mohamad said covering up and hiding evidence are also crimes.
Those who do so would be aiding and abetting criminals and they too should be tried under the law, the former prime minister said yesterday.
Writing in his blog, Dr Mahathir, who has been vocal in criticising Prime Minister Datuk Seri Najib Razak over debt-ridden state investor 1MDB, added that those who had gathered evidence, but only handed it over when the case was proven, cannot be freed from the charge of abetting.
He urged those with information but who are covering up to "make the right decision".
"There is risk in whistle-blowing, but there is also risk in covering up, in aiding and abetting.
"You are really between the devil and the deep sea.
"You must make the decision now or forever regret," he wrote.
Dr Mahathir questioned Putrajaya on its policy towards whistle-blowers, noting that at one time, Malaysia believed in protecting such people for the greater good.
However, he said, when the whistle-blowing was over alleged wrongdoings by the head of government, "what was right became wrong" because it involved the prime minister.
"Don't they know they cannot whistle-blow on the prime minister?
"Others yes. But not the prime minister," Dr Mahathir wrote.
A special task force investigating 1MDB has said it will look for those who leaked banking documents that purportedly show a money trail of some US$700 million (RM2.67 billion) to Najib's personal accounts at AmBank in Kuala Lumpur.
The revelation was made by the Wall Street Journal (WSJ) on July 2, and the newspaper had cited documents sourced from Malaysian investigators.
The documents show that money moved through 1MDB-linked entities before ending up in Najib's AmBank accounts, which have since been closed.
A special task force comprising the attorney-general, Bank Negara, Malaysian Anti-Corruption Commission and the police is investigating the WSJ claims.
1MDB is also under investigation over its RM42 billion debt, by the auditor-general and Parliament's Public Accounts Committee. — The Malaysian Insider
This article first appeared in The Edge Financial Daily, on July 15, 2015.