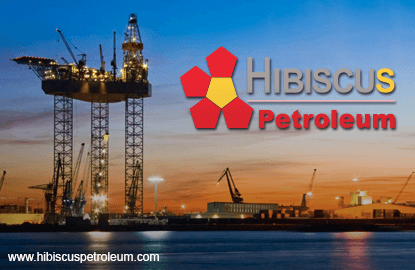 KUALA LUMPUR (Feb 29): Hibiscus Petroleum Bhd saw its second quarter ended Dec 31, 2015 (2QFY16) net loss balloon to RM164.17 million, from RM10.66 million a year ago, mainly because of partial impairment on its Australia asset and dilution of interest in Lime Petroleum Norway AS.
Loss per share (LPS) was 16.32 sen in 2QFY16, against 1.2 sen in 2QFY15.
In its filing with Bursa Malaysia today, Hibiscus said the group impaired the carrying value of VIC/P57 Exploration Permit by RM84.5 million, as there were no commercial discovery in the Sea Lion-1 well, after the commencement of drilling operation last year.
In a statement today, the group also mentioned that RM56 million of the reported loss is attributable to the purported dilution of interest of Lime Petroleum Plc in Lime Petroleum Norway AS and of Lime Petroleum Ltd in Masirah Oil Ltd.
Meanwhile, Hibiscus revenue contracted by 59.9% to RM955,000 in 2QFY16, from RM2.38 million a year ago.
For the first half period of FY16 (1HFY16), the group's net loss jumped almost eight times to RM159.42 million, from RM19.94 million a year ago; while revenue shrunk 73.63% to RM1.2 million, from RM4.55 million in 1HFY15.
LPS rose to 16.18 sen per share, from 2.87 sen per share.
Commenting on the financial results, Hibiscus managing director Dr Kenneth Pereira said the group is adopting a prudent approach in its financial reporting.
"While the energy sector is currently subject to negative sentiment leading to impairments in many oil and gas companies, we wish to highlight that we are currently on track towards completion of the Anasuria transaction," he said.
Anasuria Cluster is located offshore the east coast of Scotland in the United Kingdom sector of the North Sea.
Pereira said this transaction will give Hibiscus Petroleum a stable revenue base from production that is profitable, even at current oil prices.
"We see that the capital markets support E&P (exploration and production) companies, which have production that is cash flow positive in the current low oil price environment. Hence, we believe that the completion of the Anasuria transaction will be seen as a turning point for the company delivering value to our shareholders," he said.
Nevertheless, Hibiscus also acknowledged that the oil and gas industry is currently facing one of the most challenging and volatile periods in recent history.
"With current, mid-term oil price projections being lower than previously anticipated and oversupply dominating demand and supply projections, investment in exploration and development activities are generally being cut back," the group's filing read.
Hibiscus shares rose one sen or 2.86% to close at 18 sen today, giving it a market capitalisation of RM198.5 million.