This article first appeared in The Edge Malaysia Weekly, on August 6, 2018 - August 12, 2018.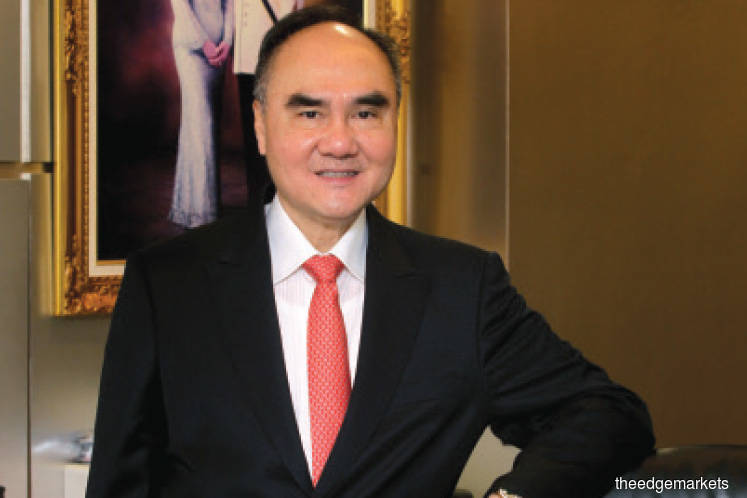 IN the last three years, fortunes have been mixed for businessman Tan Sri David Law Tien Seng, or TS Law. His strategic investment in Tungsten Mining NL appears to be bearing fruit. The Australian-listed resources company has developed a substantial portfolio of advanced tungsten resource projects and it is now poised to take advantage of the improved outlook for the speciality metal. (See sidebar)
Closer to home, however, Law's Hiap Teck Venture Bhd — which is mainly involved in steel pipe manufacturing, scaffolding equipment and hardware trading — has been in the red for three consecutive years, reporting a net loss of RM76.8 million for the financial year ended July 31, 2015 (FY2015), RM42.1 million in FY2016, and RM103.1 million in FY2017.
Hiap Teck's financial performance was mainly dragged down by Eastern Steel Sdn Bhd, its 55%-owned joint-venture (JV) company that produces steel slabs in Kemaman, Terengganu.
Eastern Steel is a JV between Hiap Teck and Shougang Group, one of the largest steel companies in China. Ironically, operations were halted in October 2015 due to the difficult market conditions at the time, caused by an influx of cheap imports from China. Fortunately, the reduction of production capacity in China and the closure of induction furnaces in the last few years have led to an improvement in steel prices.
Nearly three years after the suspension of operations in Kemaman to minimise losses, the timing is right for Hiap Teck to bring a new strategic partner into Eastern Steel, which started up its 600 cu m blast furnace again and resumed production in the middle of last month.
According to Law, the executive deputy chairman of Hiap Teck, production at Eastern Steel has been smooth over the last three weeks, while the plant is expected to go full steam this month.
"We are confident that the resumption of production at Eastern Steel will contribute positively to the future performance of Hiap Teck, which should return to the black in FY2018. Eastern Steel is aiming for a turnaround by FY2019," he tells The Edge in an exclusive interview.
In the nine months ended April 30 (9MFY2018), Hiap Teck generated a net profit of RM47.9 million on revenue of RM802.5 million.
"Eastern Steel has a slab-making capacity of 700,000 metric tons (MT) per annum. Conservatively, if we could produce 600,000 MT a year, at [steel slab prices of] US$500 per MT, Eastern Steel alone could contribute a turnover of RM1.2 billion," Law says.
He also expects Hiap Teck's profitability and cash flow to improve going forward. Subject to any capital investment opportunities and requirements, Law says the board would consider resuming paying dividends.
Law, 65, was appointed to the board of Hiap Teck in June 2010. His son, Wai Cheong, is an executive director.
Law is also executive chairman of diversified group TS Law Holding Sdn Bhd, which is mainly involved in mining, steel manufacturing and property development.
To recap, in June 2016, Eastern Steel sought a collaboration with Angang Group Hong Kong Co Ltd to help revive its Kemaman plant but the negotiations took too long and the parties failed to enter into definitive agreements.
In April this year, Hiap Teck announced plans to dispose of its 20% stake in Eastern Steel to China-based steel producer Shanxi Jianlong Industry Co Ltd for RM139.3 million, which it said could bring about a successful turnaround.
 
New partner
"We were negotiating with Angang in the past few years but the collaboration didn't happen. Now, we are teaming up with Jianlong. They have sent technical experts to help us to revive our plant," says Law.
For perspective, Hiap Teck still owns the lion's share of 55% equity interest in Eastern Steel, with Shougang Group's unit Orient Steel Investment Pte Ltd and Chinaco Investment Pte Ltd holding stakes of 40% and 5% respectively.
Hiap Teck is planning to pare down its stake from 55% to 35% via an equity and debt transfer to Jianlong, which has an annual capacity of six million tonnes and is a subsidiary of Beijing Jianlong Heavy Industry Group Co Ltd.
Following Orient Steel's decision to exit the investment in March and the entry of Jianlong, the new shareholding structure is likely to be Jianlong (60%), Hiap Teck (35%) and Chinaco (5%).
Law says Jianlong is keen to invest in Malaysia and has expressed interest in taking up a substantial stake in Eastern Steel, but the transaction is pending approvals.
"There are a lot of approvals to be obtained, especially in China," he says.
In FY2017, Hiap Teck's profit before tax and before share of loss of the JV was RM140.50 million. However, Eastern Steel took a non-cash impairment of RM266.15 million on its assets during the year and, as a result, Hiap Teck's share of loss of the JV ballooned to RM215.32 million in FY2017.
Hiap Teck registered a total loss before tax of RM74.82 million for FY2017. Excluding the impairment, the group would have seen a profit before tax of RM71.56 million.
"Without Eastern Steel, Hiap Teck would have been profitable in the past few years. When we suspended the operation in 2015, the technical team was dissolved, most of the engineers were sent back to China and foreign workers were laid off. But we kept on some 500 Malaysian employees to maintain the facilities in the factory," Law says.
 
Not a failed venture
Steel slabs are the core material in the manufacture of steel plates, hot-rolled coil and cold-rolled coil. Asean countries, including Malaysia, are net importers of slabs.
Law acknowledges that the biggest factor that could affect slab prices is China's exports. Prices would fall if China floods the international market with cheap slabs.
"In 2015, prices were US$250 to US$260 per MT — that was a really tough time. Today, the price has almost doubled to over US$500 per MT," he says.
Interestingly, Law says he never doubted that Eastern Steel had bright prospects.
"I would like to think that we were a little unlucky. We commenced construction in 2011, and not too long after, the market was very bad because of weak steel prices. We had no choice but to stop," he says. "But I don't think this is a failed business venture. I still believe in the future of Eastern Steel, that's why I never sold the company or the Kemaman plant."
Eastern Steel's production is targeted to meet the demand for slabs in Malaysia, Thailand, Indonesia and Taiwan. Law says 40% of production will be sold locally and 60% exported.
Commenting on the share price performance, Law is confident that Eastern Steel's resumption of production and its future contribution to the group will be positive factors. On the back of the revival of the Kemaman plant, shares of Hiap Teck have risen 35% in three weeks to close at 40.5 sen last Thursday — up from 30 sen on July 11 — giving it a market capitalisation of RM539.3 million.
"I think our current share price is still cheap, if you look at our net tangible assets (64 sen), our shares are deeply undervalued. Once Eastern Steel's production is stable, Hiap Teck's shares will perform again," he says. 
 
Save by subscribing to us for your print and/or digital copy.
P/S: The Edge is also available on Apple's AppStore and Androids' Google Play.