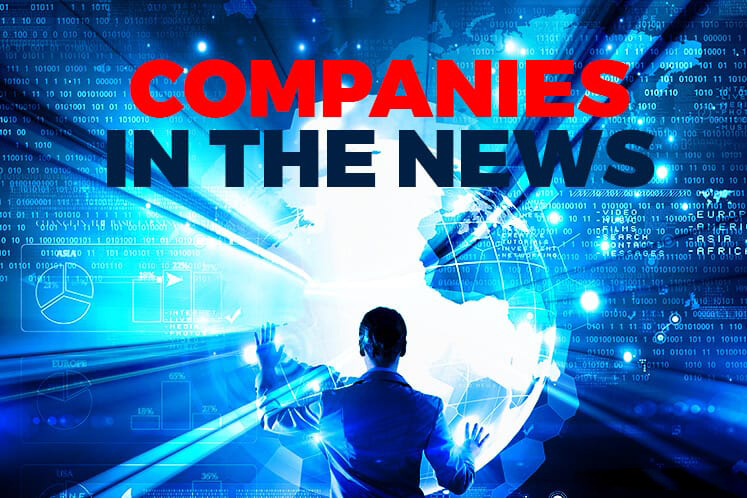 KUALA LUMPUR (Jan 31): Based on corporate announcements and news flow today, stocks in focus for Monday (Feb 3) may include the following: Hextar Global Bhd, Sapura Energy Bhd, PBA Holdings Bhd, Datasonic Group Bhd, Heng Huat Resources Group Bhd, ATTA Global Group Bhd, PRG Holdings Bhd, Asia Poly Holdings Bhd, Dolphin International Bhd and Power Root Bhd.
Hextar Global Bhd (HGB) is seeking shareholder approval for the proposed sale of its freehold industrial land in Johor for RM30 million.
HGB informed shareholders that its wholly-owned subsidiary Halex Link Sdn Bhd (HLSB) will be selling a single-storey detached factory with an annexed double-storey office building — which has a land area of 45,033 sq m and a built-up area of 13,656 sq m in Johor — for RM30 million, resulting in a loss on disposal of RM90,000 with Plato Chemical (M) Sdn Bhd (PCSB).
The property has a net book value (NBV) of RM30.7 million, and was given a market value of RM31 million by Savills (Johor) Sdn Bhd on Nov 19, 2019.
The now-vacant property was first acquired by Hextar Global's wholly-owned subsidiary Halex Woolton (M) Sdn Bhd for RM10.11 million on Oct 2,2006 — which was then transferred to HLSB for RM31 million on June 13, 2017.
Sapura Energy Bhd has redesignated Permodalan Nasional Bhd (PNB) president and chief executive officer (CEO) Abdul Jalil Abdul Rasheed as its non-independent and non-executive chairman effective Feb 1.
Sapura Energy revealed Abdul Jalil will be replacing Datuk Hamzah Bakar, 76, who is retiring from the group's board.
Meanwhile, Syed Ali Syed Salem Alsagoff, 44, will be made non-independent and non-executive director on Feb 1 as well.
PBA Holdings Bhd says the ongoing criminal case against Ooi Chieng Sim, its fifth largest shareholder who was among eight men charged with drug trafficking in Penang yesterday, will not impact the company's operations or standing.
"Although this shareholder is listed as the fifth 'largest shareholder' in PBA Holdings Bhd, he is not a 'substantial shareholder. As at Dec 31, 2019, this individual holds only 1.85% of the total shareholdings of PBA (6.13 million ordinary shares)," PBA said.
PBA also clarified that Ooi is not a director of PBA or any of its subsidiaries, and is not represented on the board of PBA or Perbadanan Bekalan Air Pulau Pinang Sdn Bhd (PBAPP). He is also not associated with the management of PBA or PBAPP.
Datasonic Group Bhd says today the Home Affairs Ministry (KDN) has sought to change the scope of a RM318.75 million contract the latter awarded in December 2015.
Under the change of scope, the total quantity of passport chips to be supplied by Datasonic will be cut from 12.5 million chips to 11 million chips, bringing the amount to RM280.5 million.
It will now include maintenance services of hardware and software for the autogate and chips and maintenance services for equipment and application of public key infrastructure and public key directory, amounting to RM38.25 million, not included in the contract's original scope.
Separately, Datasonic announced that its managing director and chief executive officer Datuk Abu Hanifah Noordin has retired from his positions effective immediately.
Abu Hanifah will be succeeded by Datuk Haji Razali Mohd Yusof as managing director with immediate effect.
Ooi Chieng Sim will cease to be the executive chairman of Heng Huat Resources Group Bhd and ATTA Global Group Bhd.
Heng Huat said Ooi has been redesignated as its non-executive director with immediate effect, while ATTA said it will suspend Ooi from his post as executive chairman and his executive roles in the subsidiaries.
As at Oct 31, 2019, Ooi had a cumulative 20.3% stake in Heng Huat, where his mother Tang Ah Mooi is a major shareholder. As for ATTA, he had an indirect 13.82% as at March 29, 2019.
PRG Holdings Bhd is settling RM7 million worth of debt owed to major shareholder and group executive vice-chairman Datuk Lua Choon Hann via the issuance of 12.65 million new shares in the group at 55.33 sen each.
PRG's current issued shares stand at 402.88 million, of which Lua holds 75.06 million, representing an 18.63% stake.
The settlement will raise Lua's shares in PRG to 87.71 million shares, representing a 21.11% stake in an enlarged PRG share base of 415.53 million — prior to the group's proposed private placement of an additional 40.29 million shares that Bursa Securities had approved earlier.
Asia Poly Holdings Bhd, a manufacturer of acrylic products and a property developer, is looking to diversify its business to include renewable energy (RE) business via the acquisition of an 80% stake in Dolphin International Bhd's unit for RM2.12 million.
Asia Poly said it is of the view that the proposed acquisition will diversify its revenue and contribute positively to the group's future earnings.
Under the proposed deal, Asia Poly will also assume liabilities comprising RM341,270 owing by Dolphin Biogas Sdn Bhd to its parent Dolphin, as well as any advances made by Dolphin to Dolphin Biogas.
Power Root Bhd has proposed to issue and allot new shares in four of its subsidiaries to its existing shareholders and new subscribers in order to provide the sharing of direct risk and rewards with Power Root in driving their respective businesses.
The subsidiaries are Power Root Distributor Sdn Bhd, Alicafe Roasters Sdn Bhd, Power Root HKChina Co Ltd and Superwrapz International Sdn Bhd.
Power Root said the subscription prices are between RM1 and HK$1 per share, adding that the total gross proceeds raised from the shares allotment of RM1.32 million will be used for working capital of the units' day-to-day operations.