This article first appeared in The Edge Financial Daily, on April 8, 2019.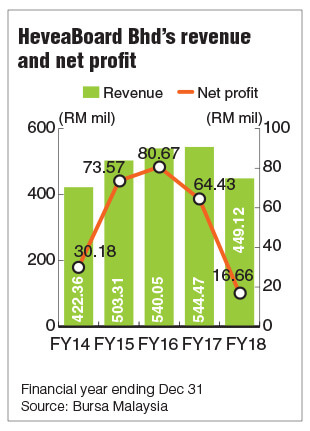 KUALA LUMPUR: Particle board and ready-to-assemble (RTA) furniture maker HeveaBoard Bhd is all out to win back customers it lost in 2017 when it was unable to fulfil orders due to a shortage of workers.
Managing director Yoong Hau Chun (pic) said the group has resolved the labour shortage and is working on regaining the trust and confidence of its customers.
"The workforce is back to [its] normal level. Although not up to the level that we want with the new factory (completed in 2017), we are back to where we used to be," Yoong said in an interview with The Edge Financial Daily.
"The very least I can say is that there will no longer be any production delays. Now, it's time to show them (customers) that we can become a reliable partner," he added.
Yoong said HeveaBoard has been actively pursuing productivity and efficiency enhancement activities to bring improvements to its RTA operations.
The group, he said, expects to do better this year after an extremely challenging 2018, with a double-digit growth in its bottom line supported by improved sales from its RTA furniture division.
Yoong, however, cautioned that it will take some time before the group can see significant improvements.
For one, he said, the group's new factory, which is meant mainly for veneer-based products, has yet to start production due to low demand.
The good side to this, however, is that HeveaBoard has obtained approval to bring in 300 foreign workers to work in this factory, and they are expected to arrive before the peak sales season starts at the end of the year.
Also, with the current depressed particle board prices, Yoong said the RTA furniture segment should benefit from low raw material costs.
As for the particle board division, Yoong is less optimistic given the soft market sentiments caused by the Sino-US trade war. He said the global business environment is currently challenging due to additional particle board capacities coming on stream as well as uncertain macroeconomic conditions.
Nonetheless, Yoong said HeveaBoard will focus on developing higher value products, better cost management and efficiencies within the particle board division.
"It's really difficult to predict what will happen [in the particle board segment]. So, our hope is that we will continue to do what we are good at — maintain or further elevate the quality level," he said.
The group produces higher grade particle boards, which fetch a higher margin, enabling HeveaBoard to differentiate itself from its peers.
The group's main revenue stream is particle board manufacturing, with 80% of the total production exported. About half the exports go to China with another 20% each to Japan and South Korea, and the rest to countries such as India and Sri Lanka.
As for the group's RTA furniture production, 90% of it is exported. Japan buys 60% of the exports, followed by Australia (15%), European countries (10%), with the remaining going to the US and other countries.
HeveaBoard saw its net profit plunge 74.15% to RM16.66 million for the financial year ended Dec 31, 2018 from RM64.43 million a year earlier, dragged by lower earnings across all segments. Revenue was down 17.51% to RM449.12 million from RM544.47 million.
Moving forward, HeveaBoard has set aside some RM3 million as capital expenditure (capex) to be used to boost automation.
Yoong said the group's extensive investment in automation in 2014 and 2015 is bearing fruit as revenue has been growing due to the higher efficiency despite the tapering workforce.
"This means that the automation has been a help. Thus, we will continue to invest in automation," he said.
As for the group's recent diversification into fungi cultivation, Yoong said the business has yet to contribute positively due to some start-up challenges.
Still, the group expects the fungi business segment to break even this year, after a pre-tax loss of RM1.98 million a year ago, on revenue of RM417 million.
HeveaBoard's share price closed half a sen or 0.79% higher at 64 sen last Friday, bringing the group's market capitalisation to RM358.81 million. While the price has not changed much over the past year, it has fallen by more than half since hitting RM1.58 on Oct 23, 2017.
According to Bloomberg, there are two research houses covering HeveaBoard, one with a "buy" call and the other with a "hold" recommendation. The target price set is 68 sen and 65 sen respectively.
JF Apex Securities Bhd research head Lee Chung Cheng forecasts HeveaBoard's net profit to be RM18.1 million and RM28.2 million for FY19 and FY20, on revenue of RM471.2 million and RM523.6 million respectively.
"Going forward, the management guided that its RTA division shall perform better this year with the resolution of its foreign labour issue and anticipated greater demand from Japan driven by the 2020 Olympics," said Lee in a note dated March 22.
Hong Leong Investment Bank Bhd analyst Rachael Hong Hui Chee expects HeveaBoard to report a net profit of RM14.3 million and RM17.6 million for FY19 and FY20, on revenue of RM516.2 million and RM533.7 million respectively.
In a research report dated March 1, she cut HeveaBoard's FY19 to FY20 earnings forecasts by 25% and 22% respectively, mainly to account for lower sales and selling price in the particle board segment.
Nonetheless, she is positive that the RTA segment's margin will continue to improve as cost per unit will be lowered, and thus will be able to cushion the weak particle board segment
"As the group cleared off its backlogged orders and contract workers, we started to witness margin recovery in the RTA segment," said Hong.