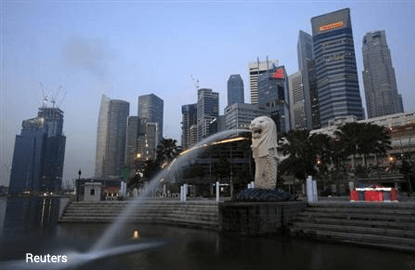 SINGAPORE (Dec 13): Maybank Kim Eng foresees a tough year ahead for Singapore amid weak global growth and challenges buffeting its key financial services, property and energy-related sectors.
In a Tuesday report, Maybank analyst Neel Sinha has forecast a 1.8% gross domestic product growth for 2017, which is on the lower end of the 1% to 3% range forecast by the Ministry of Trade and Industry.
As it stands, retail sales have been hit by poor consumer sentiment and a slowdown in tourism growth. Fortunately, domestic liquidity remains healthy and unemployment is also low.
Short-term borrowing rates reflected by the three month Singapore Interbank Offer Rate (SIBOR) are also expected to increase by between 0.2 and 0.25 percentage points in 2017, recovering from the low rates during the global financial crisis.
Still, the city state faces two significant external risks in the coming year.
Market liquidity is expected to be affected by the growing capital controls among its neighbours. Neeha notes that regional central banks have been restricting capital flight, which would impact Singapore's housing sales to foreigners, tourism and other direct investment.
The recent incident where Singapore's military vehicles were impounded by Hong Kong while enroute from Taiwan, has provoked a "strong reaction" from China's Foreign Ministry opposing "any form of official exchange or cooperation with Taiwan". Singapore has since been under pressure to adhere to "Beijing's 'One China' principle".
"Singapore has historically maintained a neutral balancing act between trade blocs often at odds with each other," explains Neeha. "With recent moves by other ASEAN countries trying to strengthen China ties in the face of a protectionist US, Singapore likely faces the tricky prospect of needing to re-evaluate its relationship along 'One China' lines, or possibly risk not making the most of regional growth opportunity."
Neeha added that China has been one of the largest sources of foreign direct investment in the region and one of the largest export destinations for Singapore.
As such, Maybank Kim Eng is opting for capital preservation over growth, and secular growth drivers over cyclical industrial ones.
For sector-driven portfolios, Neeha recommends overweighting REITs and Healthcare, underweighting Financials, Consumer & Gaming and maintaining a neutral stance on Property Developers, TMT (tech, media, telco), Industrials and Commodities.
Its top "buy" picks are CapitaLand Commercial Trust, Keppel REIT, Venture Corp, Raffles Medical Group, United Overseas Land, Bumitama Agri, Jumbo Group, and Ezion.
The brokerage also noted that ST Engineering and DBS are best leveraged to USD strength.
It has a "sell" on OCBC, Genting Singapore, Keppel Corp and M1.