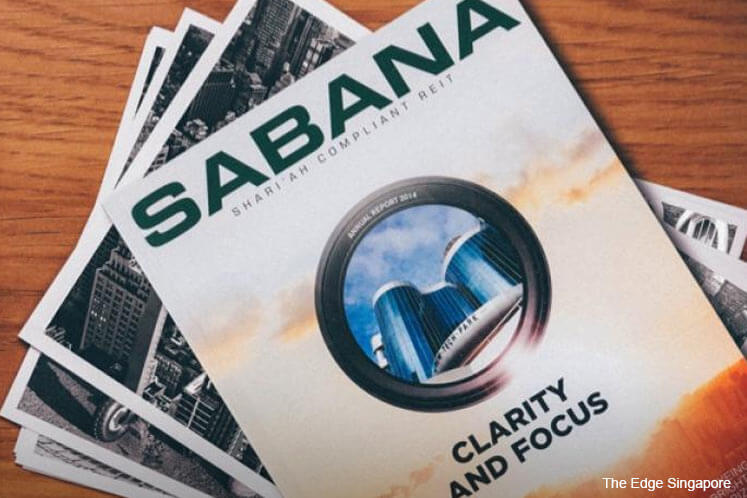 SINGAPORE (May 5): Just before the extraordinary general meeting of Sabana Shari'ah Compliant Industrial Real Estate Investment Trust, The Edge Singapore suggested six questions unitholders should ask the manager. Jerry Low Chin Yee, the de facto leader of the unitholders who requisitioned the EGM, passed the questions to Stephen Lim, the chairman of Sabana REIT's manager, who had been appointed by HSBC Trustees to chair the EGM. Lim read out the questions during the EGM.
(See also: Six questions to ask at Sabana REIT's EGM today)
The third question, which was about the valuation of 47 Changi South Ave 2, a property that Sabana REIT has proposed to acquire from its sponsor Vibrant Group, drew a raucous response from the assembled unitholders, with a number of them offering their own observations and related questions. In particular, Charlie Chan, a former investment banker and investor in a number of locally listed REITs, challenged the manner in which Sabana REITs properties had been valued.
Savills, Knight Frank and Colliers have valued 47 Changi South Ave 2 at S$23 million. A cornerstone of their valuations is a master lease to Vibrant for most of the space at the property at S$1.80 to S$2.00 psf per month. However, another tenant is currently renting space at the same property for only S$1.35 psf per month. One unitholder at the meeting also claimed he had seen "data points" that suggest actual rents for such properties are averaging S$1.22 psf per month.
A representative from Savills present at the meeting said that the valuations had been done in accordance with established principles and they have been justified by market evidence in the reports that he provided to the trustee. A representative from Knight Frank noted that the firm had used the income capitalisation approach and discounted cash flow method to arrive at its valuation for 47 Changi South Ave 2. "We followed the master lease terms [and] rentals to arrive at the value." The representative added that JTC published rental rates for single-user factories from Jan to Oct, which range from S$1.08 to S$2.64 psf per month.
Kevin Xayaraj, CEO of Sabana REIT's manager, suggested that there was little downside to the REIT investing in 47 Changi South Ave 2, because of the assured rents from Vibrant. "Changi South is on a 10 year leaseback structure," he said. "If you add up the committed rentals over the 10-year period, you have S$17 million. We're buying at S$23 million." He added that on a "cost recovery basis" the property would only need to be rented at 33 Singepore cents psf per month after the master lease expires.
The fourth question we came up with was to Savills, which had used three valuation methods including the direct comparison method for 47 Changi South Ave 2. We had suggested that unitholders ask Savills to state precisely which transactions it used as direct comparisons. In response to the question, the representative from Savills said that all its market evidence is transparent and tabled with its contract with the trustee.
10 properties still under master lease
The fifth question we asked was about properties in Sabana REIT's portfolio that are still under master lease. Specifically, we had asked the manager of the REIT to disclose how many properties in the portfolio still have master lease rentals that are higher than actual market rents, and what the manager is doing differently now to ensure that rents from properties acquired under master leases are sustainable.
Xayaraj fielded the question, but did not exactly provide an answer. "We have 10 master leases remaining in the portfolio. This year we have five master leases due for expiry, three from the sponsor, who have indicated their intention to renew. [For] the other two, we are in discussions with the tenants," he said. He added that the market is weak and that tenants are shopping around for the best deals. "We need to remain competitive and do whatever we can to keep the tenants. We also work with a few property agents to explore possibilities of divesting underperforming assets." Xayaraj went on to say that Sabana REIT tries to ensure that it has long master leases in order "to protect rental income" and ride through property cycles.
The sixth question on our list related to announcements Sabana REIT made in December. The REIT said it would raise S$80.2 million through a deeply discounted rights issue, and acquire three properties for S$77 million that will not be immediately DPU-accretive. We asked if this did more for the manager than for unitholders.
Xayaraj responded by pointing out that three properties Sabana REIT has proposed to acquire have long lease terms. He acknowledged that Sabana REIT faces the risk of its master leases not being renewed, and that converting such assets to multi-tenanted properties could mean higher costs and lower occupancy rates. "We need to bring in a new stream of income to cushion the potential decline in [net property income] in the event that some of master leases are not renewed. That is why we are focused on buying fairly good quality buildings," he said.
As for the rights issue, he noted that Sabana REIT had worked with banks on the appropriate pricing. He added that unitholders had the option of selling their rights entitlements. He also pointed out that the rights issue was heavily subscribed. "We had more than 200% subscription. The result speaks for itself."
Tight lipped on corporate moves
Representatives from Sabana REIT's manager didn't say much in response to our first two questions though. These related to how much Vibrant had offered the other shareholders of Sabana REIT's manager to buy them out, and whether the manager or its shareholders had engaged with e-Shang Redwood.
Lim, who was chairing the EGM, initially said he couldn't speak on behalf of Vibrant. "This is a transaction that happened at the top. The manager is owned by Blackwood and Vibrant," he said. However, a unitholder pointed out that some of people sitting with him were directors of Vibrant. "I'm sure they can answer the question." Henry Chua, executive director of Vibrant Group and director of Sabana REIT's manager, then stepped up. "We said we have been in discussions. Nothing is conclusive. Discussions are ongoing and as we indicated we will explore all options," Chua said.
On whether e-Shang Redwood might play role in the future, chairman Lim said he had little to offer. "I can only respond to the level that I can. With the Strategic Review we are very limited in terms of what we can say to the public. It could be a competitive situation," he said.
For more on Sabana REIT, look out for the latest issue of The Edge Singapore (Issue 778) which is on sale from today.